Vaccinium Vitis Idaea drops: what is it for? We would like to share with you the results of the work conducted by Dr. Comollo: a complete description about the properties and uses of Vaccinium vitis Idaea gemmotherapy, and valuable advice.
---
Longberry: how to recognize it
Habitat: the cranberry (or "Vine of Mount Ida", Vaccinium vitis Idaea) is found in the Arctic region, in northern Eurasia, in Japan, in North America. In France and Italy it is found quite often in the Jura region and in the Alps up to 3000 m of altitude. Lingonberry grows mainly in beech, pine and fir forests, but also in mountain meadows.
Longberry is a sub-shrub, measuring 10 to 30cm tall, with evergreen leaves 15 to 40mm long. rounded, with rolled edges, bright green at the top and light green at the bottom. Its flowers appear from May to August and are bell-shaped, white or pink, gathered in clusters. Fruits 5-10 mm in diameter are red and have a sour taste; they are the most used part of the plant and can be harvested between September and October. In gemmotherapy, on the other hand, young jets are used.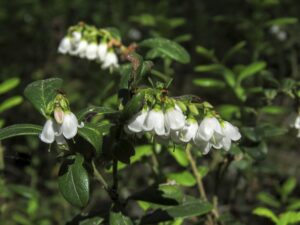 ---
What Vaccinium vitis idaea drops is and what it is used for
From the young shoots of the Vaccinium vitis idaea (Lingonberry) variety, its glycerine macerate is obtained, also called cranberry bud extract. It is the anti-inflammatory par excellence of the intestine, but its action also targets the urinary tract and the female genital tract. The glycerine macerate of cranberry is in fact an excellent regulator of intestinal function, anti-inflammatory, anti-inflammatory, remineralizing (menopause) and anti-aging female.
Vaccinium vitis glycerine macerate we at Erboristeria Como could do it in case of:
irritable colon
osteoarthritis and osteoporosis
uterine fibroids
menopause and female senescence.
---
Longberry bud extract properties and advice for use
The glycerine macerate of cranberry: unique properties conferred by the incredible active ingredients of the young shoots of the plant. In particular, the properties to know about the intestine and the problems of the woman are fundamental.
Cranberry bud extract properties on the intestine
Vaccinum vitis idaea and intestine: Colitis, constipation and irritable colon
Vaccinum vitis is the specific remedy for all ailments affecting the colon, just as Ficus carica is for the stomach and Tilia tomentosa for the nervous system.
When we talk about colitis we mean the inflammation of the colon referred to dysenteric episodes of bacillary origin and finds its therapeutic confirmation under the heading Colibacillosis. But today other causes are also attributed to colitis: "colitis has psychogenetic implications in almost 90% of cases. Colitis also has a typical and frequent characterological profile: he is intelligent, accurate, clean, sensitive, susceptible, but unable to react , inhibited to manage the notable aggressiveness, mixture of modesty and narcissism, passive while expressing many ambitions, reserved, sexually inhibited, with a great need for love and consequent terror of losing it. The crises of colitis always follow risky situations in a sentimental sense or economic. The spasm of the colon means the attempt to hold back the symbolically incorporated key figures in order to guarantee their protection "(Roversi, 1994, p. 508).
Longberry glycerine macerate has an interesting biphasic activity: hyper, that is, stimulating in case of constipation, and hypo, sedative, in situations of hypertonia and spasms. In the latter situation, it will be prescribed at a dose of 35 drops in the morning and lime bud extract at a dose of 75 drops in the evening. In the irritable colon, instead of lime bud extract, it is preferable to use Ficus carica, buds, MG1DH at a dose of 30 drops in the morning on an empty stomach and in the evening after dinner.
Vaccinum vitis idaea and intestine: dysbiosis and meteorism
In case of intestinal dysbiosis and meteorism Vaccinium vitis Idaea is useful as it improves the quality of the symbiont flora of the intestinal mucosa. We recommend it in association with walnut bud extract. In fact, according to Pol Henry, the walnut buds would be able to restore the intestinal bacterial flora, they too have an action in the meteorism from intestinal dysbiosis, as well as having a pancreatic organotropism (their action manifests itself with a regulation of insulin secretion and therefore of the glycaemia); they also exhibit anti-infectious and anti-inflammatory properties: experimentally they stimulate Kupffer's liver cells, thus carrying out an important drainage action. The same association is also valid in case of diarrhea after antibiotic therapy.
The advice of Erboristeria Como for the intestine
In case of meteorism we recommend this synergy of bud extracts: cranberry (before breakfast), juniper (before lunch), walnut (before dinner); in case of diarrhea after antibiotic therapy: cranberry (before breakfast), walnut (before bedtime; for irritable colon: fig and cranberry (also lime in case of anxiety); for constipation: cranberry and betula pubescens.
Vaccinum vitis idaea disinfectant against relapsing cystitis and colibacillosis
Due to its disinfectant activity at the level of the urinary and intestinal tract (it is able to neutralize cultures of colibacilli and Eberth's bacilli) it is indicated in the treatment of relapsing cystitis and colibacillosis. In fact, it would seem that it contributes to eliminating or in any case decreasing the levels of uric acid, urea and cholesterol, thus also showing draining properties.
---
Cranberrybud extract properties for women
 Vaccinium vitis idaea: Menopause and circulatory disorders
The young shoots of Vaccinium vitis idaea turn out to be an excellent specific in all those situations where hyalinization of the tissues prevails both at the vascular and organ level (ovarian hyalinosis in post menopause, uterine fibroid, thyroid adenoma, etc.) and, for the action on connective tissue, in premature aging (P. Henry). The bud extract can therefore be considered, also thanks to the estrogenic action it exerts, the remedy for postmenopausal women capable of reactivating the functionality of hyalinized ovaries.
It will also be indicated in estrogen deficiency disorders, such as vaginal and skin trophic disorders, mood changes, heat, osteoporosis. In the latter case, the improved trophism at the level of the intestinal mucosa is also important, which allows, among other things, an increased absorption of calcium. As Sequoia gigantea is the remedy for male senescence, Vaccinium vitis idaea is for the female one.
The advice of Erboristeria Como for women
In case of osteoporosis, here are possible effective synergies of bud extractives: Vaccinium vitis idaea drops before breakfast and raspberry drops before lunch and dinner. For premature menopause: raspberry drops in water before breakfast and / or lunch and Vaccinium vitis idaea drops in water before bedtime. In the case of menopause and circulatory disorders, the bud extract Vaccinium vitis idaea is recommended before breakfast and is usually combined with the rowan bud extract to be taken before lunch, and the chestnut bud extract (after dinner). Cycles of 20 days per month for 2-3 months.
---
Vaccinium Vitis Idaea: recommended posology
For our Vaccinium Vitis Idea drops the recommended dosage is 50 drops, diluted in water and sipped slowly, 1-2 times a day between meals.
---
For any clarification or for more information Contact us.
Follow us on our Facebook and Instagram channels
ALL RIGHT ARE RESERVED, THIS TEXT IS NOT REPRODUCIBLE WITHOUT EXPRESS AUTHORIZATION OF ERBORISTERIA COMO.
The information contained in this site is presented for informational purposes only, in no case can they constitute the formulation of a diagnosis or the prescription of a treatment, and do not intend and must not in any way replace the direct doctor-patient relationship or the specialist visit. . It is recommended that you always seek the advice of your doctor and / or specialists regarding any indication reported.