Joint pain? from gems therapy here are all the benefits of vitis vinifera (red vine) and ampelopsis weitchii (virgin vine) bud extracts.
---
The great role of the joints
Our body is an extremely complex structure: a subtle intertwining of systems in immediate and constant relationship with each other. The joints are the elements of this structure. Without joints we could not move or live normally. When the body starts moving, it causes it to function in a series of automatisms managed by the brain and, more specifically, by the cerebellum (structure responsible for coordinating movements, posture, balance). The continuous mechanical work of the skeleton in the long run can cause disorders, blockages, pain in the joints, following trauma or simply due to the wear of time, or due to other more specific parameters.
---
Gemmotherapy for joint well-being
In another post we will deal with the treatment of joint pain with our herbal herbal preparations. In this article, however, I will talk to you about how gemmotherapy, even alongside therapies already in progress, could be used to support your joints. Gemmotherapy, we recall, is a therapeutic method introduced by the Belgian doctor Paul Henry, based on the administration of fresh vegetable tissues in the embryonic state (buds or young shoots), whose active ingredients are extracted using a particular solvent (water, alcohol, glycerin) .
Ampelopsis weitchii Hort (or A. veitchii Hort.) Is the botanical name of the Canadian or Virgin Vine, and the bud extract of the virgin vine is obtained from the maceration of its young shoots; this glycerine macerate is characterized by its richness in flavonoids and anthocyanins, known among other things for their beneficial properties on blood vessels. In the world of gemmotherapy it is known for its anti-inflammatory and antirheumatic properties and in particular its organotropism is for the joints and periarticular tissue. Often many people confuse the bud extract of virgin vine with that of red vine (obtained instead from the buds of Vitis vinifera): they are similar but different, even if both are very useful for joint well-being.
Botanically speaking, the Canadian vine is a creeper with alternate leaves, palmate, of a glossy green color, with a suggestive autumnal hue between golden yellow and bronze red; with its suckers it conquers walls and facades. The red vine, certainly better known to us, is a climbing plant with small flowers which, becoming berries, group together to form a cluster. It does not have a real trunk, it grows leaning and in a disordered direction until it folds in on itself and has deep roots.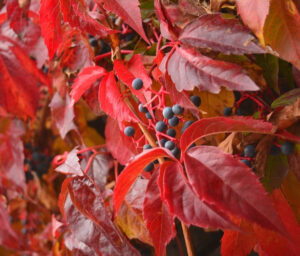 vite vergine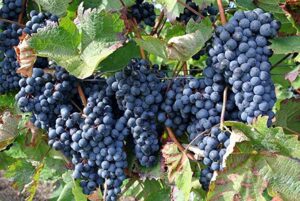 vitis vinifera
---
Bud extract of virgin vine and bud extract of red vine: what they are for
Both have anti-inflammatory properties. In particular, the virgin grape bud extract has these main indications:
scapulohumeral periarthritis
degenerative arthrosis
post-inflammatory adhesions
rheumatoid arthritis
ankylosing spondylitis
Dupuytren's disease
the vitis vinifera bud extract of (red vine), on the other hand, has relapsing / chronic inflammatory processes as its main indication.
---
Joint pain and bud extract of Ampelopsis weitchii: the properties of virgin grapevine
The main indications of Ampelopsis weitchii are very painful, rapidly evolving and deforming inflammatory syndromes with joint and periarticular localization. Remedy for tendons and ligaments, it fights their fibrous hardening and therefore deformation and sclerosis. Its prescription is optimal in hyperalgic inflammatory rheumatic syndromes, with joint and periarticular localization, followed by sclerosis and tendon retraction: rheumatoid arthritis, psoriatic arthritis, ankylosing spondylitis, scapulohumeral periarthritis, Dupuytren's disease, painful and deforming forms of the small joints , post-inflammatory adhesions are the main indications of this gemmotherapic whose action can be reinforced by Ribes nigrum. Bruno Brigo also recommends Ampelopsis in all forms characterized by an abundant proliferation of fibrous tissue.
Joint pain and vitis vinifera bud extract: the properties of red vine
Vitis vinifera buds slow down the formation of joint deformations and help maintain joint play. The use of gems is particularly indicated in relapsing or chronic inflammatory processes, such as in the sequelae of acute joint rheumatism, in deforming arthritis affecting small joints (with Ampelopsis weitchii), in the arthritic process in general. Vitis vinifera is also a medicine for tendons and ligaments, and is indicated in post-inflammatory adhesions and as an antisclerotic in Dupuytren's disease. Finally, Bruno Brigo recommends Vitis in association with horse chestnut bud extract in case of capillary fragility, due to its vasoprotective properties.
---
Joint pain: bud extract of Ampelopsis weitchii and bud extract of red vine as used
Ampelopsis and bachelor-humeral periarthritis
Periarthritis are very common affections that affect tendons, tendon sheaths, ligaments, and particularly affect the shoulder, hip, elbow, knee. They are among the most frequent "rheumatic forms" in an absolute sense.
The scapulo-humeral periarthritis, in particular, is one of the most frequent rheumatic forms that particularly affects women between 45 and 65 years of age. At the latter age, ankylosing fibrosis outcomes for neglected periarthritis are not uncommon. This painful syndrome that affects the shoulder can be accompanied by more or less severe limitations of the mobility of the joint even if the X-ray does not detect any obvious anomaly in the joint heads. The initial cause of shoulder periarthritis is age-related degenerative changes in the tendons and ligaments. In this joint, probably due to the great mobility, the changes due to senile involution are more evident and earlier than elsewhere. Periarthritis is also common in hyperthyroid, pain sensitive and anxious individuals. There could also be a constitutional predisposition, that is, an excessive phlogistic reaction of the tissues on a constitutional basis in the face of non-specific stimuli.
In gemmotherapy, one of the most classic therapeutic schemes for scapulo-humeral periarthritis is the use of bud extract of Ribes nigrum and Ampelopsis weitchii bud extract for 2-month cycles (20 days of treatment and 10 days of rest).
Ampelopsis and vitis vinifera against deforming arthritis
Deforming arthritis (or "rheumatoid arthritis") is a disease characterized by inflammatory changes in the synovial membranes of the joints and structures around the joints, and by atrophy and loss of calcium in the bones. Gemmotherapy comes to our rescue, without interfering with any ongoing therapies, with the bud extract of Ribes nigrum, Ampelopsis weitchii and the bud extract of Red Vine, if taken for cycles of 2-3 months (20 days of treatment and 10 days of break ).
Vitis vinifera and coxarthrosis (hip osteoarthritis)
Coxarthrosis is defined as hip arthrosis. The clinical picture of coxarthrosis is characterized by pain and functional limitation. Pain usually refers to the groin, gluteal region, thigh, and medial aspect of the knee. The pain appears at the beginning of walking and then subsides and recurs after a more or less long walk. In general, walking becomes more and more difficult over the years. Physical examination shows a painful limitation in rotation. Gemmotherapy comes to our aid here, without interfering with any ongoing therapies, with the bud extract of Ribes nigrum, the bud extract of betula pubescens, and the bud extract of Red Vine, if taken for cycles of 2-3 months (20 days of treatment and 10 for a break).
---
For any clarification or for more information Contact us.
Follow us on our Facebook and Instagram channels
ALL RIGHT ARE RESERVED, THIS TEXT IS NOT REPRODUCIBLE WITHOUT EXPRESS AUTHORIZATION OF ERBORISTERIA COMO.
The information contained in this site is presented for informational purposes only, in no case can they constitute the formulation of a diagnosis or the prescription of a treatment, and do not intend and must not in any way replace the direct doctor-patient relationship or the specialist visit. . It is recommended that you always seek the advice of your doctor and / or specialists regarding any indication reported.