Saffron, a well-known ingredient for cooking (in Italy for example in the preparation of "Risotto alla milanese"), perhaps less so in herbal medicine: discover saffron incredible properties to know!
---
Saffron: come and recognize it in nature
Saffron consists of the dried stigmas of Crocus sativus L., of the Iridaceae family. Bulbous plant native to the eastern Mediterranean and spontaneous in Italy in some varieties, Crocus sativus L. has no fruit, it propagates vegetatively by means of the bulbs and blooms in September-October of the following year.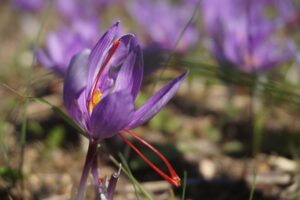 Crocus sativus has pale purple flowers and orange pistils, with very long lobes (3-3.5 cm). The lobes of the stigma constitute the drug, which comes in the form of intertwined, fragile threads with a characteristic odor and bitter taste. For this reason saffron is very expensive and is often adulterated.
Saffron: active ingredients
The main active ingredients present in saffron are:
crocin: with its derivatives (carotenoid glycosides), yellow in color and therefore responsible for the color of saffron;
picrocrocin, a bitter glycoside present up to 4% and responsible for the taste;
an essential oil containing safranal (responsible for the smell of saffron).
---
Saffron properties in herbal medicine
In addition to its traditional value as a spice and dye, saffron has a long history of medicinal use spanning over 2,500 years. Saffron is known in traditional medicine for the treatment of numerous diseases including cramps, menstruation disorders, pain; as well as a traditional remedy used as a sedative, to counteract spasms and in cases of asthma.
These medicinal properties of saffron are likely due to a number of compounds contained within this spice, including crocetin, crocins and safranal. Such active ingredients would have strong antioxidant and radical scavenger properties and therefore would provide greater protection against a variety of reactive oxygen species and pro-inflammatory cytokines.
Evidence from recent in vitro and in vivo research indicates that saffron has potential anticancer (cancer suppressant), antimutagen (mutation prevention), antioxidant, antidepressant and memory enhancing properties. The chemo-preventive properties attributed to saffron on the basis of experimental studies are also interesting. Clinical studies also show the ability of saffron extract to rebalance the mood. Also useful in cases of depression, stress and mental exhaustion, it ultimately relieves the symptoms of PMS.
Saffron: benefits for the treatment of mild and moderate depression
Used in Persian medicine for the treatment of depression, here is the recently reported results of saffron in three randomized, double-blind clinical trials.
Studies
The first of these studies, reported by Capasso (Phytotherapy, 2006), was carried out on 30 patients with mild or moderate depression (Hamilton scale score of at least 18) and showed therapeutic equivalence between: saffron (30 mg / day of a hydroalcoholic extract for a duration of 6 weeks) and imipramine (Akhondzadeh et al. (2004) BMC Complement Altern Med 4:12).
The same authors then demonstrated, in two further studies, using the same dosage and the same duration of treatment, that saffron was superior to placebo (Akhondzadeh et al. (2005) Phytother Res 19: 148-151) and therapeutically equivalent to fluoxetine (Noorbata et al. (2005) J Ethnopharmarcol 97: 281-284) in patients with mild or moderate depression (Hamilton scale score of at least 18; 20 patients for each group). When compared to placebo, saffron decreased the Hamilton scale score from 23 to 10, while in patients receiving placebo a decrease from 23 to 18 was observed. In these studies, hydroalcoholic extracts (30 mg / day) were used standardized to safranal (the safranal content, for each capsule containing 15 mg of extract, was 0.30-0.35 mg). Daily dose of safranal used: 0.60-0.70 mg.
Herbs with best efficacy against anxiety and depression: the studies
Anxiety and depression are prevalent among cancer patients, with a significant negative impact. Many patients prefer herbs for symptom relief to conventional medications which have limited efficacy / side effects. In the Herbal Medicine for Depression and Anxiety: A Systematic Review with Assessment of Potential Psycho-Oncologic Relevance study, single herbal medicines were identified that could warrant further studies in cancer patients.
The search included the PubMed, Allied and Complementary Medicine, Embase and Cochrane databases, selecting only randomized controlled trials on a single herb between 1996 and 2016 in any population for data extraction, excluding herbs with known potential for interactions. with cancer treatments. Among the most studied herbs, lavender, passionflower and saffron have produced benefits comparable to standard anxiolytics and antidepressants. Overall, 45% of the studies reported positive results with fewer adverse effects than conventional drugs.
Saffron: benefits for PMS, studies
A randomized controlled trial (Crocus sativus L. (saffron) in the treatment of premenstrual syndrome: one double-blind, randomized and placebo-controlled trial) examined the effects of saffron supplementation on PMS. Agha-Hosseini et al. (2008) found that women with regular menstrual cycles suffering from PMS who took 30 mg / day of saffron supplementation for eight weeks reported relief in premenstrual symptoms and depression levels compared to placebo.
Saffron: the winning extract
SaffSerene is the most studied Saffron extract in the world (with supporting clinical studies!). In this exclusive saffron extract, titrated in 2% safranal and 2% crocin, only the most valuable part of the stigma is used, ie the final part of the filament, called "Sargol" corresponds to the very first choice. The stigmas come from Iran because the best, while the whole extraction process is carried out in Europe. You can find this extract in all our Ansioninax supplements.
Characteristics of our saffron extract:
natural agonist of the benzodiazepine Gaba-A receptor (and does not interact with benzodiazepines!),
helps manage stress, supporting mood balance,
promotes normal psychological functions,
relieves the symptoms of PMS.
---
Saffron properties: in herbal medicine an aid for depression, anxiety, insomnia and sleep aid for autistic children
Here are the products of Erboristeria Como that you may need containing SaffSerene, of the Ansioninax Line:
day: with SaffSerene and extracts of hawthorn and escolzia. Useful in case of anxiety, panic attacks, nervous palpitations, tired awakening accompanied by strong mental stress, continuous and unjustified worries, post partum depression, premenstrual syndrome. Even in pregnancy and breastfeeding;
drops: based on SaffSerene, granular melatonin protected with gum arabic (Rossignol DA, Frey RE: Melatonin in autism spectrum disorders: a systematic review and meta analysis. Dev. Med Child Neurol 2011 ..) and L-Theanine of vegetable origin. Specific for restless children especially in case of autism spectrum, jet lag, difficulty in falling asleep indicated above all after the age of 40 in which the production of melatonin tends to decrease physiologically;
rapid sleep: with SaffSerene and a complex based on dry extract of valerian and lemon balm. The anxiolytic effect of a valerian / lemon balm combination can be found here;
nocturnal awakenings: with granular melatonin covered with gum arabic, lavender essential oil (here a study with its properties) and saffron oleolite, in vegetable pearls.
---
For any clarification or for more information Contact us.
Follow us on our Facebook and Instagram channels
ALL RIGHT ARE RESERVED, THIS TEXT IS NOT REPRODUCIBLE WITHOUT EXPRESS AUTHORIZATION OF ERBORISTERIA COMO.
The information contained in this site is presented for informational purposes only, in no case can they constitute the formulation of a diagnosis or the prescription of a treatment, and do not intend and must not in any way replace the direct doctor-patient relationship or the specialist visit. . It is recommended that you always seek the advice of your doctor and / or specialists regarding any indication reported.