Spirulina algae: if we know this algae it is because someone told us about its health benefits, but few know for spirulina hair benefits and very few know for skin benefits spirulina. Here is the reason for our post.
---
Spirulina algae: what it is and how it is made
Arthrospira (Spirulina) is a genus of prokaryotic filamentous cyanobacteria that belongs to the group of microalgae. The most commonly used species are Arthrospira maxima (A. maxima) and Arthrospira platensis (A. platensis).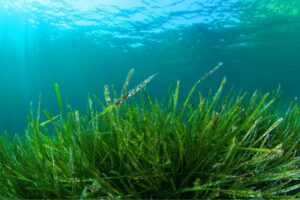 These species possess different biological and nutritional meanings and are often used as food supplements due to their high protein content (around 60-70%). In addition to proteins, the main bioactive compounds of Arthrospira are phycocyanin, vitamins of group B (vitamins B12, A, E and D), numerous microelements (eg. Ca, Fe, P, I, Mg, Zn, Se, Cu , Mn, Cr, K and Na), unsaturated fatty acids (e.g. gamma-linolenic acid), beta-carotene and superoxide dismutase (SOD). Due to the high content of all these active ingredients, Spirulina has also been found suitable for use as a bioactive additive in cosmetics. Furthermore, due to the presence of phycocyanin of which it is rich, spirulina is a natural blue dye.
Spirulina under the microscope

In Spirulina, cells are aggregated into filaments which tend to form spirals. Note the blue-green color typical of cyanobacteria.
In addition to being a real superfood (we will talk about it in a future post), it is also used in cosmetics, even if few know it.
---
Spirulina algae and the natural blue pigment: phycocyanin
Phycocyanin is a natural, protein-bound blue pigment made up of α and β polypeptide subunits. This natural product has the ability to eliminate free radicals, thus avoiding oxidative damage and preventing premature cell apoptosis. According to the literature, it improves skin elasticity and slows skin aging thanks to its antioxidant effect.
Phycocyanin has also been reported to favorably modulate apoptotic pathways and promote wound healing in UV-exposed skin cells. SOD is a metal-containing enzyme found in large quantities in algal species. This enzyme is capable of neutralizing superoxide anion radicals by converting them into hydrogen peroxide (H2O2) and oxygen (O2). Among the studies to mention: "Phycocyanin Protects Against UVB-Induced Apoptosis Through the PKC α/βII-Nrf-2/HO-1 Dependent Pathway in Human Primary Skin Cells" di Ki Mo Kim et al, 2018.
---
Spirulina benefits for skin: what scientific research says
Among the most recent studies on spirulina and skin, there is "Protective Effect of Spirulina-Derived C-Phycocyanin against Ultraviolet B-Induced Damage in HaCaT Cells" published in "Medicina" and PubMed in 2021, by the authors Young Ah Jang, Bo Ae Kim. This study focuses on the problem of skin aging. As we know, the skin is the body's first line of defense against infectious organisms and physical damage. It plays a vital role in controlling body temperature and its aging process affects the whole body. Thus the skin is an ideal model for studying the mechanism of aging due to its simplicity of observation. Many of the skin changes associated with skin aging (pigmentation changes, superficiality and deep wrinkles) generally result from sun exposure and classified as intrinsic aging (natural skin aging) and extrinsic aging (photographic aging) (Simo et al. 2014).
Skin aging studies have stated that acute human skin exposure to ultraviolet radiation (UVR) causes oxidation of cellular biomolecules. UVR leads to direct or indirect DNA damage and activates cell surface receptors of keratinocytes and fibroblasts in the skin, causing collagen breakdown in the extracellular matrix (ECM) and inhibition of new collagen synthesis. This oxidation causes a depletion of endogenous antioxidants. Therefore, it can only be prevented by previous antioxidant treatment. The antioxidant defense of the skin depends on the synergistic effect of several antioxidants including vitamins (vitamin E isoforms, vitamin C), nutritional factors and endogenous enzymes (GSH peroxidase (GPx), superoxide dismutase (SOD) and catalase).
There are two mechanisms in the skin's natural defense against free radicals: enzymatic defense (glutathione peroxidase and superoxide dismutase) and non-enzymatic defense (vitamin C, tocopherols and other food-based antioxidants) (Helfrich et al. 2008; Pandel et al. 2013).
Spirulina benefits for skin: what emerged from studies on skin aging
Focusing on bioproducts, recent trends in biomedical and cosmeceutical applications from natural sources suggest that algae are a promising group producing new biochemically active substances such as antioxidants, pigments, unsaturated lipids, UV shields and vitamins (Cardozo et al. 2007). These bioactive compounds can be applied to creams, lotions and ointments (Helfrich et al. 2008; Kim et al. 2008). The major product groups of cosmeceuticals are anti-aging products because antioxidants play an important role in body maintenance and cell repair. In fact, recently, there has been a great interest in cosmetic and biomedical applications as regards the active ingredients including dietary fiber, ω-3 fatty acids, essential amino acids, vitamins (A, B, C, E), minerals, botanical and antioxidant extracts from marine microalgae.
These bioactives obtained from microalgae and cyanobacteria have various beneficial effects on human skin health by promoting skin, hair and nail health at the cellular level.
Microalgae extracts promote the healing of skin damage and inhibit the inflammatory process. In particular, Spirulina is established in the skin care market as a product that repairs the signs of premature skin aging, exerting a firming effect and stimulating collagen synthesis, preventing the formation of striae and the reduction of wrinkles (Spolaore et al. 2006; Kim et al. 2008). Additionally, marine algae have been shown to be a good source of photoprotective agents with their mycosporin-like amino acids (MAAs), carotenoids and polyphenols. They are represented in sunscreen creams and hair care products with these UV protective compounds (Pulz & Gross 2004; Kim 2011).
---
Spirulina and acne
Products containing natural active ingredients play an increasingly important role in the treatment of acne vulgaris. Although the external application of Spirulina is not as widespread, scientific studies explaining the properties of spirulina are there. Among the most recent is: "Formulation of Creams Containing Spirulina Platensis Powder with Different Nonionic Surfactants for the Treatment of Acne Vulgaris" by Liza Jozsa et al, published in 2020. Spirulina is learned to reduce dryness and itchiness of the skin, inhibits the formation of acne, moderates irritation and stimulates metabolism at the cellular level. That's not all: Spirulina's antimicrobial activity could be related to the synergistic effect of its fatty acid components and its polysaccharide content. It has also been hypothesized that fatty acids kill microorganisms leading to cell membrane rupture.
Spirulina and acne: here it is in our 100% natural face mask
This face mask with spirulina is an exfoliating face scrub mask by Lumea cosmetics with snail slime. Thanks to the pure snail slime it contains, its formulation allows you to eliminate dead cells, and a smoothing action on the complexion, lightening spots on the skin, anti-aging. In addition, the presence of finely ground perlite which helps, through a gentle massage, to increase cell turnover, leaving the skin smooth and purified. Rich in vitamins A, C, F and allantoin, collagen and elastin, this face mask is ideal for nourishing tissues, cleansing the face and as a treatment against acne and blackheads. Attention! here spirulina does not escape even the least attentive eyes! The mask with spirulina on the face purifies, relaxes and nourishes the skin; it is suitable for all skin types, and in particular for oily or impure skin, because it helps balance the production of sebum.
If, on the other hand, you are looking for pure spirulina for the face pack, continue reading and you will find one that is right for you, in powder and without picramati.
---
Spirulina benefits for hair in cosmetics
The main function of Spirulina on hair, used in powder or in cosmetic preparations for hair, is to strengthen, thanks to the presence of amino acids necessary for the synthesis of keratin, a substance of which the hair is largely formed. The high presence of vitamin A acts on the regulation of sebum, vitamin E helps to make them elastic and the B vitamins help to oxygenate the hair bulb promoting growth, making the stem strong and shiny.
Spirulina benefits for hair: Spirulina hair powder on Erboristeria Como, no picramati and vegan ok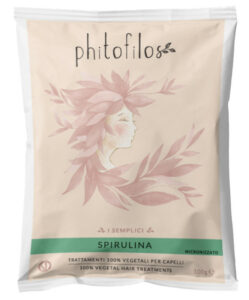 Here is what our staff has selected for you! Phitofilos Spirulina powder is mainly used for its surprising nourishing properties, especially beneficial for those with weak and brittle hair. It is micronized, vegan ok and without picramates. 100% Made in Italy.
It has a high content of mineral salts (iron, calcium, potassium, phosphorus), vitamins, proteins and essential fatty acids (omega 3 and omega 6). It is used as a pack for weak and damaged hair to reinvigorate and plump. Furthermore, its use is functional as a sebum balancing pack for seborrheic scalp and oily hair. You can also use it for the face: keep reading and you'll find out how and the benefits.
Spirulina benefits for hair: on Erboristeria Como ready to apply in a regenerating eco-friendly mask
Phitofilos, an Italian professional hair company we work with, aware of the important properties of Spirulina, has exploited Spirulina hair benefits also in its ready-to-use regenerating mask, for the most practical: the Phitofilos Regenerating Mask with Moringa and Spirulina, Ecobio , from the restorative action. It nourishes, revitalizes and detangles your hair, leaving it silky for a long time. This organic hair mask is ideal for damaged, damaged and dry hair.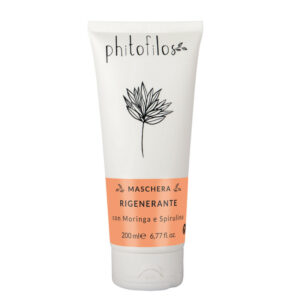 Made in Italy excellence, it is vegan ok, made with the Italian technique of enzymatic bioliquefaction and bio-lipofaction, 100% green, ideal for satisfying even the most sensitive skin. Bioliquefaction is in fact an innovative process of extraction in water that allows to preserve the functionality of the ingredients, making them bioavailable and more easily assimilated than traditional extraction methods (alcohol, oil, etc.). In this mask regenerating the hair shaft, Spirulina is found in bioliquefied, together with the bioliquefied of Moringa, Hemp and Rice proteins; they find space together with the biolipofatto of Linen, Oliva and Rosa Mosqueta has a nourishing and protective action. Biolipofation is an enzymatic process that allows to obtain highly bioavailable oils, which are therefore much more absorbable at the cellular level than classic oils.
Finally, the biological extracts of Apricot, Coconut and Millet have strengthening, restructuring and nourishing properties; Sweet Almond and Jojoba Oils have a restructuring and nourishing action. The ready-made Phitofilos regenerating mask is applied after shampooing on damp ends and lengths, distributing evenly. Keep it on for 10/15 minutes and finally rinse. If you want, combine it with the Nourishing Shampoo or the Strengthening Shampoo.
---
Spirulina benefits in cosmetics: how to make a mask with spirulina
Spirulina benefits for hair: how to make a mask with spirulina powder for the hair
Here's how you can practically get Spirulina Algae immediate hair benefits! Mix the required amount of Spirulina powder with hot water, until the batter is not too thick. Apply to lightly cleansed and slightly damp hair. Wrap with cling film or aluminum foil and leave on for between 20 and 45 minutes. After the allotted time, rinse and proceed with normal drying. The compress made with Phitofilos Spirulina powder can also be used for the face!
How to make a mask with spirulina powder for the face: here's how
Let's take Phitofilos Spirulina powder and mix the required amount of powder with hot water, until you get a not too thick batter. Apply to the previously slightly cleansed face, for about 15 minutes: abound a little with the batter on the face so it does not dry out.
The mask with spirulina on the face relaxes, purifies and nourishes the skin. It is suitable for all skin types and in particular for oily and impure skin, because it helps to rebalance the production of sebum. It is in fact rich in proteins, amino acids and vitamins, nutrients that protect the skin's collagen and elastin, giving it tone and vigor. In It there are numerous antioxidant active ingredients including vitamins E, A, B5, as well as zinc and selenium. The algae powder absorbs impurities and excess sebum, fights acne, balances the acidity of the skin, moisturizes, nourishes it, purifies it in depth. For this reason, spirulina is an ingredient also used in spas and beauty salons to make invigorating masks and packs for the body and as a nail and hair strengthener. It is also used in treatments against cellulite. You can also do the beauty treatment at home, perhaps by mixing spirulina with green clay.
How to make a spirulina face mask with clay
A very useful combination for the skin is that between spirulina and green clay, which rebalances the skin and removes impurities. How can you make a spirulina mask with clay? In a bowl, mix 2 tablespoons of ventilated green clay, half a teaspoon of spirulina powder, 4 tablespoons of water. Mix until you get a thick and compact dough and add 3 drops of lemon essential oil. Spread the mixture on damp skin avoiding the eye area; leave on for a quarter of an hour; rinse and then apply a moisturizer. Alternatively, you can mix a teaspoon of spirulina powder with a vegetable oil (for example olive oil) until you get a cream, spread it on your face and leave it on for a quarter of an hour; rinse with plenty of water.
---
ALL RIGHTS RESERVED, THIS TEXT CANNOT BE REPRODUCED WITHOUT THE EXPRESS AUTHORIZATION OF ERBORISTERIACOMO.IT
The information contained in this site is presented for informational purposes only, in no case can they constitute the formulation of a diagnosis or the prescription of a treatment, and do not intend and must not in any way replace the direct doctor-patient relationship or the specialist visit. . It is recommended that you always seek the advice of your doctor and / or specialists regarding any indication reported.