Taneda, scientific name Achillea Moschata, also known as Erba Iva or Erba Livia, is a very popular herb in the Rhaetian Alps: in this article Erboristeriacomo.it will explain how to recognize it, its properties and traditional uses.
---
Achillea Moschata Wulfen, also known as Taneda, or "Erba Iva", is an endemic plant that it grows on siliceous rocks, screes and stony pastures, along the Rhaetian Alps from 1800 m up to 3400 m a.s.l. and has always been used by local populations for its properties, especially in the form of herbal tea or liqueur.
Taneda is among the ingredients of the famous Amaro Braulio born in Bormio (Alta Valtellina). It is also and the sovereign herb of the homonymous digestive liqueur "Taneda" by Carlo Ericini of Bormio. It is very widespread in Valtellina, also in Valchiavenna, in Trentino and on the neighboring Swiss Alps.
---
Achillea Moschata: how to recognize it
About Achillea Moschata, or Erba Iva, or Erba Livia for the Como shepherds, we find an in-depth description in "Flora Comense found according to the system of Linnaeus, Volume 16, by Giuseppe Comolli". Taneda has:
root meandering, thin, fibrous, blackish on the outside and whitish on the inside;
straight or ascending caule, sub-cylindrical, scattered with small white hairs, sometimes hairless, green, 4 inches to half a foot and more, thin;
glabrous leaves, of a beautiful green, combed-pinnate, with whole linear laciniae terminated by short hard resistant tips;
few white flowers, arranged in a small, simple terminal corymb, contained in a calyx formed of obtuse ovate scales green-yellowish in the center and black in the margin. Each of the small flowers in corymb: semi-round white toothed semifloscules at the apex, floscules pale yellow of the length of the floral calyx, tubular, quinquefid at the apex.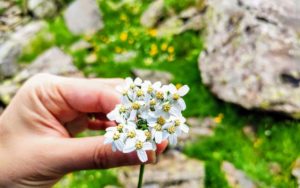 Taneda is perennial and blooms in July and August in high-alpine biota.
---
Achillea Moschata aerial part: what it contains
Achillea moschata has been collected and used for centuries, but related scientific studies are very limited. Therefore, we decided to investigate the composition of the secondary metabolites of this species, starting with the content of phenols. Phenols is a category of chemicals whose health benefits are well documented including their antioxidant and anti-inflammatory properties. In particular, the compounds responsible for the therapeutic activities are for Achillea moschata, polyphenols luteolin and apigenin.
In a study conducted at the University of Milan in 2020, entitled "Polyphenol content and bioactivity of Achillea moschata from the Italian and Swiss Alps", we wanted to scientifically investigate the content of Achillea Moschata aerial parts, and specifically the study compared two different samples, both collected in the flowering phase respectively in (Switzerland, 2300 m asl) and in Valchiavenna (Italy, 2200 m asl) and suitably dried.
High performance liquid chromatography and electrospray ionization tandem mass spectrometry analysis of the methanolic extracts showed that flavonoids were the predominant compounds over phenolic acids in both samples. Among the flavonoid derivatives, luteolin and apigenin were the predominant free and glycosylated aglycones. The extract of A. moschata Valchiavenna (Achillea Clavennae L.) was characterized by apigenin as the main compound (60.4 μg / mg DW), while that of Val Mustair was characterized by its apigenin derivative 7-O-glucoside (44.7 μg / mg DW).
The study also investigated their antioxidant and antibacterial properties (the latter against three Gram-positive bacterial species (Bacillus cereus, Enterococcus faecalis and Staphylococcus aureus) and three Gram-negative (Escherichia coli, Proteus mirabilis and Pseudomonas aeruginosa).
This comparative study showed that both samples showed similar biological activity both in terms of antiradical and antibacterial efficacy. The results obtained could be linked to its properties recognized by local populations.
---
Achillea moschata: properties and uses in the alpine tradition
Yarrow is traditionally used for its aerial parts as a tonic, stomachic, antispasmodic. It is generally given as an infusion against dyspepsia, abdominal swelling, flatulence and stomach pains. Taneda also has anti-inflammatory, anti-microbial, anti-neuralgic, diuretic and sedative properties. Taneda's properties are appreciated with infusion or liqueur.
---
Taneda: how to prepare it according to the alpine tradition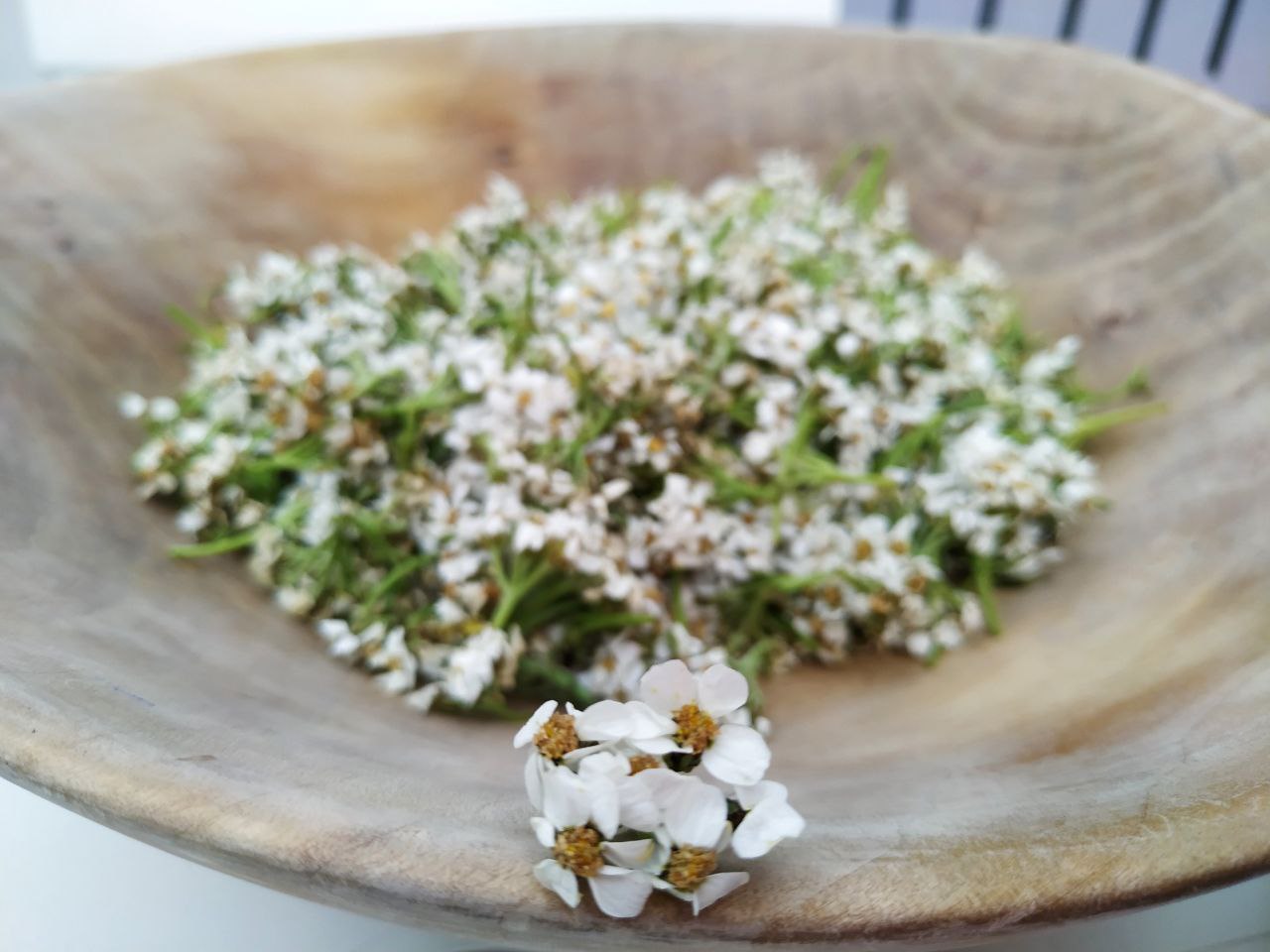 With Achillea moschata you can make an herbal tea for example in case of digestive discomfort: an infusion with one-two spoons of Taneda.
If you want to make taneda liqueur, here the alpine receipt of the original Achillea Moschata amaro liqueur:
1/2 lt pure alcohol
25 g fresh taneda
250 g of water
150 g of sugar
How is it prepared?
first of all it is necessary to infuse the vat herb in alcohol, in a glass bottle, possibly in the sun, for about 20 days, shaking the bottle every now and then;
proceed with the preparation of the syrup: water and sugar will be boiled in a saucepan for 15 minutes, stirring occasionally;
when the syrup is cold it can be added to the alcohol that we have filtered in the meantime. It is important to continue to filter several times until the liqueur is nice and clear;
at this point our iva herb liqueur is ready and we will keep it cool, but only after at least 2 months will it be possible to drink it and enjoy it in all its herbal aroma.
---
Taneda liqueur: the historic Made in Valtellina
If you want to try the traditional Taneda amaro liqueur, here we recommend Taneda Ericini, whose raw materials are collected with authorization on the slopes of Monte Braulio and in the Stelvio National Park, in Alta Valtellina. Taneda Ericini is the most renowned and traditional alpine amaro liqueur of Bormio, handcrafted according to ancient traditions handed down from father to son.
---
For any clarification or for more information Contact us.
Follow us on our Facebook and Instagram channels
ALL RIGHT ARE RESERVED, THIS TEXT IS NOT REPRODUCIBLE WITHOUT EXPRESS AUTHORIZATION OF ERBORISTERIA COMO.