Matricaria Chamomile, called "common chamomile" or "German chamomile" or also "Matricaria recutita", is a humble plant often considered only as a mild sedative: here all about this fantastic plant!
Venerated by the Egyptians as a symbol of the sun god, used as a febrifuge and pain reliever remedy by the ancients and the Romans, studied and given by Greeks by herbalists, alchemists, for various ailments. Already at the time of Galen and Dioscorides, its flowers were often used for stress, sweating, to reduce pain and to calm the nerves. Nowadays it is mostly used as a calming of the nervous system and to facilitate sleep for children and adults.
---
German Chamomile: how to recognize it and how to distinguish it from other chamomiles
Matricaria Recutita, family of the Composites (Asteraceae) has an erect, branchy stem, up to 40 cm high, with bipinnate leaves with linear, elongated segments, flat on the lower page. The flowers are gathered in corimbiform flower heads, with white lingulated flowers on the periphery, and yellow tubules in the center. The fruit is an achene made in the shape of an inverted cone, with ventral ribs and smooth on the back. It grows in central-southern Europe, in the Balkan peninsula, in Russia. The flowers of Matricaria are traditionally collected for St. John, that is, from June 24 onwards. It should be harvested in dry weather and dried in the shade.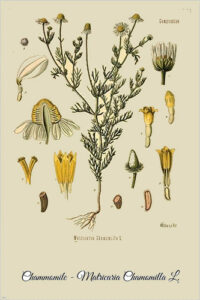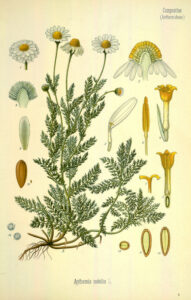 On the left Matricaria Camomilla, on the right Roman Camomilla 
However, let's not confuse it with Anthemis Nobilis, or Roman chamomile: among the differences, the flowers of Anthemis are lighter yellow than Matricaria, but have a more pleasant (but not more intense) smell; Matricaria is annual, Anthemis is perennial. More simply Pierre Lieutaghi suggests to us that to distinguish Matricaria from other Chamomiles it is necessary to cut the ripe flower head in two lengthwise; if the flowers are implanted around a rounded receptacle it is a chamomile, if the receptacle is conical it is Matricaria.
---
Matricaria chamomile: what we herbalists use and what it contains
To us herbalists, the parts of Camomilla matricaria (also called Matricaria recutita L. or Chamomilla recutita (L.)) that are of most interest are the dried flowering tops. Fresh material can also be used, provided that once dried it complies with the European Pharmacopoeia. With Matricaria you can prepare infusions, decoctions, mother tinctures, essential oil or even a liqueur.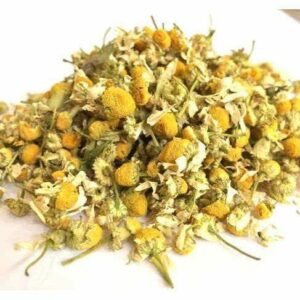 The main characteristic constituents of chamomile flowers are the essential oil and flavonic derivatives such as apigenin-7-glucoside. The essential oil contains about 50% of the sesquiterpenes alpha bisabolol and its oxides A, B and C, bisaboloneoxide A, up to 25% of cis- and trans- en-in-dicycloethers and matricine, which is converted into chamazulene during distillation. Other constituents of chamomile flowers include coumarins (herniarin and umbelliferone), phenolic acids and polysaccharides.
A technical consideration by Herbal Technicians: the phytocomplex of common chamomile contains both a series of components of a lipophilic nature, which are soluble in oils and organic solvents (sesquiterpenes contained in the essential oil), and a series of components of hydrophilic nature, soluble in water and organic solvents (which are flavonoids). The combination of these two groups of substances confer the known spasmolytic-antiphlogistic activity, but they must be extracted with an effective extraction method. For example, extraction with a 70% hydroalcoholic solvent would be the best method to obtain the phytocomplex in its entirety, both for extracts and tinctures.
---
German chamomile properties and uses in herbal medicine
Scientifically known properties of German Chamomile are mainly anti-inflammatory, antispasmodic, sedative, digestive, dyspeptic, diuretic. The WHO recognizes the use of chamomile to relieve states of nervous agitation and the resulting insomnia. According to the ESCOP, the therapeutic indications of Matricaria are:
for internal use: symptomatic treatment of gastrointestinal disorders such as minor spasms, epigastric distension, flatulence and belching;
for external use: mild inflammation and irritation of the skin and mucosa, including oral cavities and gums (mouthwashes), respiratory tract (inhalations) and anal and genital areas (baths, ointments)
Chamazulene is one of the major responsible for the anti-inflammatory activity: studies show that it blocks the cyclooxygenase enzyme in the biosynthesis of prostaglandins and therefore the anti-inflammatory activity can derive from the consequent inhibition of the formation of leukotrienes. Apigenin strongly inhibits the activation of cyclooxygenase and nitric oxide synthase transcription in lipopolysaccharide-activated macrophages. On the other hand, (-) – α-bisabolol exerts its anti-inflammatory effects by downregulating the expression of the iNOS and COX-2 genes through the inhibition of NF-κB and AP-1 signaling (ERK and p38). The sedative properties are instead attributed in particular to apigenin (flavonoid with affinity to benzodiazepine receptors) and to tryptophan (precursor of serotonin).
Some herbal preparations with Matricaria recutita for internal use:
the infusion: pour a tablespoon of flowers (3 g) in a cup of boiling water (150 ml), cover and filter after at least 5-10 minutes! Taken half an hour before going to bed it facilitates sleep, gives a sense of calm, facilitates difficult digestion;
the decoction: boil 25 g of Matricaria flowers in 100 g of water for 15 minutes, then filter; you can use it as a compress against joint pain, sprains, cramps, neuralgia, or in case of eye irritation or skin irritation and also to lighten hair.
tinctures, fluid extracts (1: 2; 50% ethanol as the most suitable extraction solvent), dry extracts (generally titrated in apigenin).
the chamomile liqueur.
Some herbal preparations with Matricaria for external use
Here's how to prepare with German Chamomile:
gauze compresses, rinses, gargles: 3-10% m / V infusion or 1% V / V fluid extract or 5% V / V tincture;
baths: 5 g of drug or 0.8 g of alcoholic extract per liter of water;
solid or semisolid preparations: hydroalcoholic extracts corresponding to 3-10% m / m of drug;
steam inhalation: 10-20 ml of alcoholic extract per liter of hot water.
---
Matricaria recutita in liqueur: the chamomile liqueur
The common chamomile often enters the preparation of liqueurs and aromatic wines thanks to its digestive and nerve-relaxing activity, to be appreciated in particular after meals. Here, for example, is a popular recipe for obtaining a good chamomile liqueur: collect 200 grams of chamomile flowers and place them in a liter of grappa, leave them to macerate for 20-30 days; then filter and emulsify everything with a solution of water and sugar passed with a blender, in the right proportions to reach the desired alcohol content. Bottle and leave to rest for a month, then refilter. The preparation is excellent also served hot.
We have mentioned here one of the many popular recipes, but if you really want to taste a traditional and high quality chamomile liqueur, with high mountain chamomile, here is what Erboristeriacomo.it has selected for you (you can find it here): the preparation of Chamomile liqueur follows an ancient recipe handed down from father to son; moreover the chamomile is harvested by hand, with a permit, between the mountains of Bormio and the upper Valtellina, where the air is very clean. Dr. Ericini also tells us about some critical issues encountered in producing the chamomile liqueur compared to other liqueurs: the yield (more raw material is needed because the yield is low); filtering of chamomile: the flower heads during distillation flake off giving rise to very small sediments therefore filtration must be meticulous; the prolonged resting time, due to the essential oil of which matricaria chamomile is rich.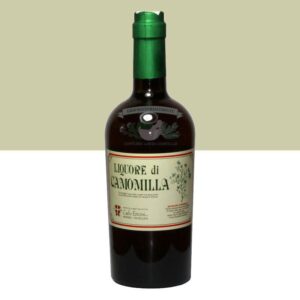 ---
Matricaria chamomile: side effects, warnings, contraindications
According to the ESCOP, special warnings and appropriate precautions for use are not necessary:
there is no report for any interactions with other medicines and nor for harmful effects on the use of Matricaria in pregnancy and breastfeeding. Cases of contact allergies are rare in subjects with known allergy to species of the genus Artemisia: this is because the allergenic potential of matricaria chamomile is considerably lower than other species of chamomile;
most of the allergic reactions described for matricaria chamomile are caused by contamination with Anthemis cotula or related species, containing high amounts of antecotulis. However, in cases where a contact allergy to matricaria chamomile has developed, cross-reactions with other plants containing sesquiterpene lactones are common.
---
For any clarification or for more information Contact us.
Follow us on our Facebook and Instagram channels
ALL RIGHT ARE RESERVED, THIS TEXT IS NOT REPRODUCIBLE WITHOUT EXPRESS AUTHORIZATION OF ERBORISTERIA COMO.
The information contained in this site is presented for informational purposes only, in no case can they constitute the formulation of a diagnosis or the prescription of a treatment, and do not intend and must not in any way replace the direct doctor-patient relationship or the specialist visit. . It is recommended that you always seek the advice of your doctor and / or specialists regarding any indication reported.