A focus on the concept of quality and pure essences and an interview Prof. Marco Valussi promoter of a project to support Made in Italy.
---
Aromatherapists and professionists who use Essential Oils in their practices share a very similar challenge: they want or need pure and of high quality essential oils. Although this may seem like an obvious standard, different consumers or end users have different needs and standards. The two concepts of purity and quality, although generally connected, are quite different and present several critical points when we try to define them.
Pure essences, high quality essences: the difference
Purity is rather easy to define, if we mean that the product presented on the market must be identical to the product that came out of the production device (steam distiller or expressing machine), minus the simple mechanical filtering operations. In short, we could mean that a 100% pure essential oil is one for which nothing has been added and nothing has been taken away.
Quality depends on the context: different consumers or end users have different needs and standards! for example, a quality essential oil for a perfumer is that which gives the mix a desired olfactory quality, therefore the Lavandula angustifolia (lavender) is usually preferred by perfumers to clones Lavandula latifolia (ear of lavender) or Lavandula × intermediate (sink) , while for a clinician, Lavandula latifolia could be the favorite Essential Oil; an essential oil of deterpenated Citrus aurantium (bitter orange) has a better aromatic profile, is easier to mix with water-based media, and is therefore preferred by the cosmetic industry for the whole "intact" bitter orange oil that most aromatherapists prefer.
If we take a look at the world production of essential oils (for example taking as a source "The market for EOs (adapted from UNIDO & FAO, 2005)", we can easily see that the aromatherapy sector is small compared to the big players (taste and fragrances of 46%, 16% pharmaceutical, 11% intermediate, 10% agrochemical, 10% aromatherapy, 7% cosmetics). From this it can be seen that the world production of essential oil is dominated by producers whose end customers have very different quality standards: as 90% of producers are not and do not have the needs of an aromatherapist – Valussi continues – the market is full of essential oils that may not reach the quality standards of the aromatherapist, even without the need to include fraudulent oils and obvious substitutions. So The world's EO production is dominated by producers whose final costumers have quality standards very different.
---
Pure essences of high quality: the quality standards
As aromatherapists, professionals involved with plants and their derivatives, we usually have a set of standards we use in judging/assessing the EOs we buy, some of which are easier to define and control for, including:
• chemical standards (defined according to literature and controlled by specialized laboratory analyses); • safety standards (defined according to toxicology literature and controlled using specialized laboratory analyses); • ethical trade standards (defined by international agencies such as IUCN, Traffic, or localised but specialized ones such as Cropwatch); • organic cultivation standards (defined and controlled by various organic registration agencies).
However, all these are negative standards; they tell us what we should not do or should not buy. And while they are extremely important, if we only rely on them we are left with many unanswered questions and doubts. We all know too well how rigid adherence to chemical markers for quality are a poor substitute for complete knowledge of the plant and the production process. It is relatively easy to 'adjust' an essential oil by adding a molecule to reach its ISO standards.
We also know that there are certain important details that can hardly be measured such as the fairness of the wage system for farmers and workers, the social and cultural impact of an industry and the revenue return to the local people. All these variables, and more, can be gauged only by using the strictest and more severe of the standards, that of the 'whole production chain', whereby it is the whole process that is the focus of the analysis, and not only the final products. By looking at the production chain we can also measure other important ethical standards, such as the environmental sustainability of the process, its economic sustainability and equity, and the connection to wider social and cultural issues, especially true when importing essential oils from distant countries.
---
An Alps project: how Gadoi project was born – interview with prof. Marco Valussi
Based exclusively on end-of-production tests, it may be wrong – says Marco Valussi- and we, as professionals, should instead forge alliances with small, dedicated essential oil producers. This is because there are mutual interests at play: we can more easily obtain whole-production-chain quality assessment, and at the same time, these small producers can continue to produce essential oils according to the quality standards that are relevant to our specialized area, and not those in other industries.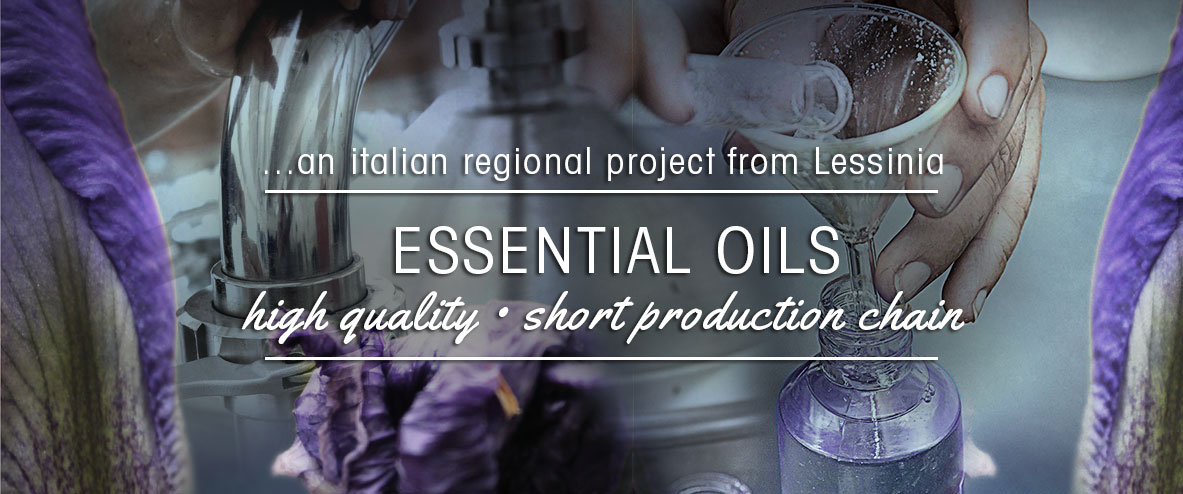 Hence the Gadoi project was born, all Italian: aim, the creation of a local production chain for the production of high quality essential oils for the professional market, which included and controlled every step, from the selection of varieties, to agricultural practices, to processing, quality control and marketing. This meant adopting a skill-intensive small business model in which many small farmers could be united in a common project where they could provide raw material for a local processing industry whose main interest is the production of very high-quality aromatic materials for which the provenience from the mountains is a positive selling point and not a problem. Gadoi is the local name of Iris × germanica (iris), commercially also called "veronese Orris", present on the mountainous regions of north-eastern Italy, in particular in Lessinia (between Veneto and Trentino), from which the project starts.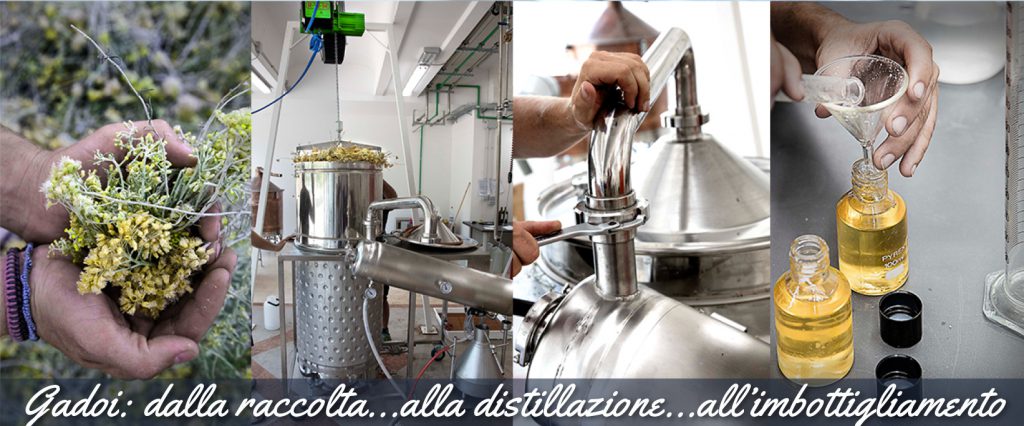 "For the Gadoi Project -says the Valussi- I was asked to contribute to creating a network of growers and distillers in the mountainous regions of the Italian North-East and in abandoned lands in Calabria and Sardinia. In fact, These regions, have also remained at the margins of touristic investments, and so have to rethink their social and economic development pathways, going from intensive exploitation of landscape and resources to a more sustainable model, based on an integrated valuation of natural resources".
The richness of the local plant traditions, the specific interest for plants that grow at high altitude (due to their specific phytochemistry), the uncontaminated environment and the commercial appeal of the alpine environment, are all positive strengths, indicative of a possible role of mountain regions in the production of high quality aromatic and medicinal products. Aromatic plants are usually traditional plants, part of the culture of mountain regions, used for centuries by people living in these places and are also hardy and resistant plants, which do not require particular attention and are obviously resistant to pests, therefore easier to cultivate as organic crops.
---
Pure essences of high quality: the chose of what to produce
Marco Valussi and his team at Lessinia then examined which plants could be exploited in a sustainable way, in plants that had something to say about the local tradition, which had links with the territory. Thus, some essential conifer oils (such as essential oil of mountain pine, silver fir, spruce, cypress, juniper) have been selected that can be collected spontaneously in a forestry project and the species that have had a long history of use (the choice fell on Achillea, Artemisia, Hyssop, Angelica and Cumino, mountain savory). Furthermore it was decided to invest in some crops of Lavandula angustifolia (lavender) and Lavandula × intermedia (sink): these two plants are not native, but grow well in our mountains, and are in great demand.
The meeting with an agricultural cooperative in Calabria and a producer in Sardinia who were trying to create a group of farmers to promote the production of local essential oils widened the choice:
Calabria would supply the essential oils of petit grain to citrus fruits (essential oil of sweet orange, bitter orange, bergamot, lemon and essential oil of mandarin);
Sardinia would supply the essential oils of officinal rosemary CT verbenone, Elicriso italico, Lentisco, mirto, the essential oil of Eucalypto gunnii ".
Because of the distances involved, it was impossible for them to send the new material to be distilled to Lessinia: so Marco Valussi and his team decided to make an effort to transfer knowledge, creating a set of cultivation and processing standards that should have followed the newcomers to be part of the project.
---
Quality and Innovation: Gadoi's choice to collaborate with the university
All Gadoi essential oils are certified.The collaboration with the University was a great support:
for a scientific evaluation of the chemical-physical processes involved with steam distillation, in order to improve efficiency (reduction of energy consumption, water and plant material, etc.), effectiveness (improving results, with oils more complete essentials, with better organoleptic profiles, etc.) and technology (adapting the distillation process to different materials or to different needs);
to explore new technologies allowing the improvement of simple distillation and to significantly reduce the carbon footprint: this thanks to ultrasound and microwave-assisted distillation;
to build a complete traceability system for the products, so that the end user can easily, from his lot number, trace who and when he planted and harvested the plant, who and when he distilled it and obtain the access to technical data relating to that lot.
---
Conclusions
Erboristeria Como, professionist in the field of herbal techniques, has consciously selected for her clients the best essential oils to support Made in Italy, for the competence and direct connection with those who produce them and because she believes in the Gadoi Project and in high quality of pure Gadoi essential oils.
The Gadoi project was supported and wanted above all in Val di Fiemme, in Trentino, where production has moved in the last few years, and the brand has now changed into Magnifica Essenza in honor of the Magnifica Comunità di Fiemme, a community body that today it manages the valley's pastoral forest heritage.
Thanks, and we are honored, for the time you gave us to Marco Valussi for this interview and who is always available to best advise our customers on the use of these magnificent Made in Italy essential oils that they can find in our department of aromatherapy.
Thank you, and we are honored, for the time that Marco Valussi has given us for this interview.
---
For any clarification or for more information Contact us.
Follow us on our Facebook and Instagram channels
ALL RIGHT ARE RESERVED, THIS TEXT IS NOT REPRODUCIBLE WITHOUT EXPRESS AUTHORIZATION OF ERBORISTERIA COMO.