Rooibos tea, or red tea, is a healthy drink for everyone, even for children and pregnant women, unlike other types of tea: discover Rooibos tea benefits and use to make it your ally.
---
Rooibos (Aspalathus linearis), whose name means red bush, is a small African shrub with needle-like leaves. The terms "rooibos" and "rooibos tea" (or "red tea" o "redbush tea") are commonly used to indicate the species of plant and the tea obtained from it, red for the characteristic color of its infusion, prepared with its leaves.
The word Rooibos is pronounced "roy-boss". The name of the genus Aspalathus comes from the Greek "aspalathos", a word that in ancient times referred to a fragrant and thorny shrub, whose bark and roots produced a fragrant oil used in the preparation of spiced wine. "Linearis" is in Latin and means linear: an allusion to the long and narrow shape of the leaves.
The Rooibos: what it is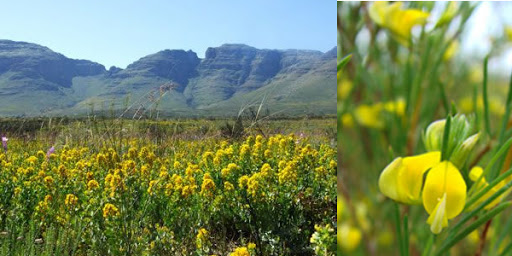 The Rooibos is a shrub that can reach a height of 1.35 m to 2 meters, it is native to the western mountain slopes of the Cape Province, South Africa, and in particular it grows in the Cederberg Mountains, near the Olifantsrivier and on the plateau by Bokkeveld. It has red-brown branches, needle-like leaves on average 1.5-6 cm long and yellow flowers, about 6.5 mm long, arranged in small clusters. The pods generally contain one seed (occasionally two) which is expelled from the plant when the pod opens.
Rooibos tea has been used in medicine and as a tea for centuries by African natives (mainly from the Khoi tribe who live in the mountains and the San people). They are said to have adopted a process originally used by Malaysian slaves to harvest and prepare plants, cutting branches with axes, injuring them and leaving them to "ferment" (an oxidation, not a real fermentation) in heaps before drying them in the sun . Modern technology copies these techniques but is mechanized.
In the twentieth century, Rooibos gained popularity as a tea primarily in South Africa but also in other countries. Apartheid and related trade restrictions slowed down exports for some time. Only in the last decade has this tea aroused widespread commercial interest.
---
Rooibos tea benefits and uses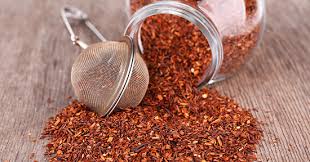 The use of red tea is mainly culinary, such as tea. In reality, rooibos tea can be green or red and this depends on the different type of preparation of the product. The characteristic red color of the tea develops when the collected leaves and twigs are bruised during the normal preparation procedure and are left to "ferment" (or better to "oxidize") for 8-24 hours, during this period the material is turned . The red color of the rooibos tea is nothing other than the result of the oxidation of the constituent polyphenols. The unfermented product, on the other hand, remains green and is the "green rooibos": this product has a higher content of antioxidants but a poorer taste.
The method of preparing rooibos tea can influence its activity, given that the water-soluble component of the tea also appears therapeutically active. Red tea is mainly used as a tasty and beneficial tea seen:
the lack of caffeine,
the low concentration of tannins,
the high level of ascorbic acid (vitamin C)
the remarkable content of antioxidants (in particular flavonoids).
The alleged beneficial health properties have been a strength, just like with classic green tea.
It is known that a cup of black or green tea contains 10 to 80 mg of caffeine, depending on the type of tea and the method of preparation. Excessive caffeine consumption can cause nervousness, insomnia and irregular heart rate. Herbal manuals advise pregnant women, breastfeeding mothers, and patients with heart problems to limit tea intake. This is probably due to the presence of caffeine. Since red tea does not contain caffeine, unlike green tea and other teas, greater consumption of rooibos can be taken comfortably without unwanted side effects. Red tea is more appropriate for children and others who should limit their caffeine intake, such as pregnant women.
African red tea, unlike regular tea and green tea: it is caffeine-free and lower in tannins than black or green tea, it has an antioxidant profile similar to that of green tea and brings similar health benefits. Polyphenolic antioxidants such as flavonoids are present in similar quantities in red and green tea. It is believed that the antioxidant effect of green tea is partially conferred by these phenolic components. However, rooibos appear to contain active antioxidant components that are not present in green tea and other teas, such as additional polyphenols, including some flavonols and flavones. These antioxidants may explain the association of tea with anticancer agents and other beneficial effects.
Real studies on red tea indicate that this source is an effective way to obtain the benefits of many plant chemicals that appear to help protect against cancer. The effects of red tea are manifested for long periods of tea consumption. Many scientists believe it is increasingly important that antioxidants come from mixtures rich in biologically active compounds in plants rather than isolated synthetic antioxidants. For example, studies of isolated synthetic antioxidant beta carotene have not shown that it is protective against cancer. Studies of herbal constituent blends, as found in teas, look promising.
Rooibos tea is consumed hot, iced, plain or sweetened, with or without milk or other additives, and is also used to a lesser extent to flavor edible products, such as wines, juices and cured meats. Its pleasant taste makes it also suitable as an excellent infusion after a meal.
In addition to the culinary uses of rooibos tea, some medicinal extracts, to be consumed orally, are indicated to relieve hay fever, asthma, allergies, insomnia and other conditions. There are also skin cosmetics and a formulation for thinning hair based on the theory that plant antioxidants can penetrate the skin and have therapeutic effects.
---
Rooibos red tea: where to find it
Red tea can be found in many food stores and herbal medicine stores. Erboristeria Como have chosen for our customers the organic red tea in filter bags that you find here, ICEA certified, based on Rooibos leaves, packaged in a sealed external bag and an internal one without a metal point, without glue and in fiber not treated with whiteners, so as to preserve the aroma and purity of the preparation for infusion.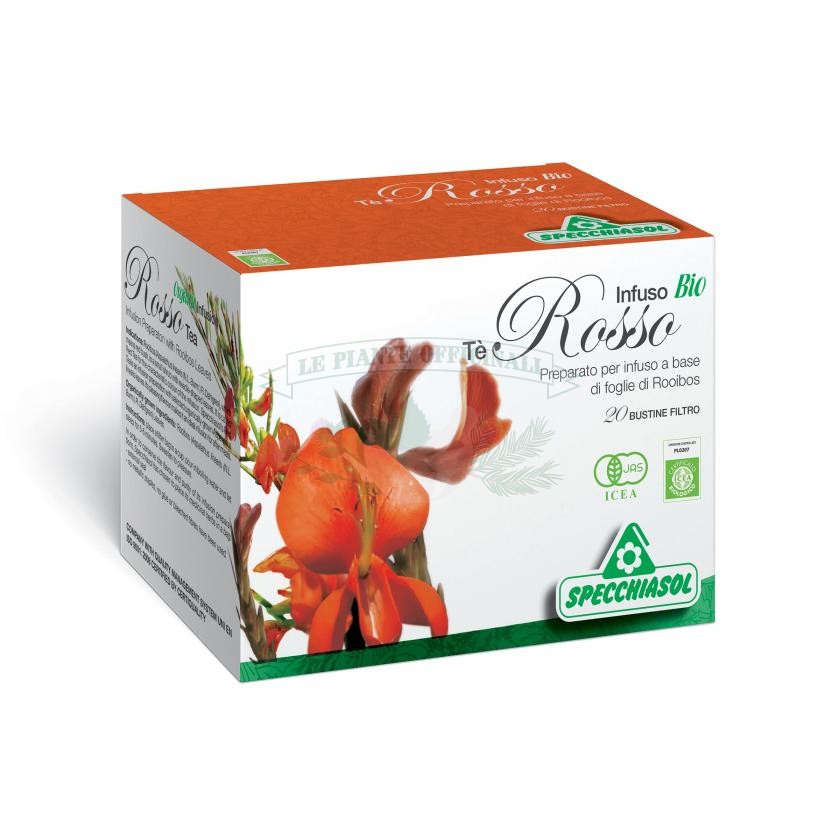 ---
For any clarification or for more information Contact us.
Follow us on our Facebook and Instagram channels
ALL RIGHT ARE RESERVED, THIS TEXT IS NOT REPRODUCIBLE WITHOUT EXPRESS AUTHORIZATION OF ERBORISTERIA COMO.
---
Bibliography:
"Top 100 Exotic Food Plants", di Ernest Small
"Complementary and Integrative Medicine in Cancer Care and Prevention", 2006, a cura di Marc S. Micozzi, MD. PhD

"Women's Health in Complementary and Integrative Medicine

: A Clinical Guide", 

Marc S. Micozzi

, 

Tieraona Low Dog, 2004