Tired of the usual joint pains? read what they are and what are the natural approaches and effective remedies against joint pain that we recommend.
---
Joint pains can be of origin:
rheumatic: pain caused by rheumatic or osteoarticular disorders.
traumatic: pain caused by trauma, falls, bruises and injuries.
Rheumatic pains: the cause
Among the osteoarticular diseases are included about 100 different diseases that can affect the joints or connective tissue, the most common are represented by:
arthritis,
osteoarthritis (or arthrosis)
rheumatoid arthritis.
Arthrosis is a chronic degenerative alteration of the joint cartilage. The cartilage begins to lose its characteristic smoothness and with the wear becomes rough. It mainly affects the knee, the hip, the vertebral column and, to a lesser extent, the joints of the hands and feet. On the edges of the two bony extremities, which participate in the articulation, appear protrusions, called osteophytes, which represent a characteristic sign of osteoarthritis. The main symptoms of arthrosis are represented by: edema (swelling due to the accumulation of liquids); enlargement of the affected joint; inflammation (in the most advanced stages); painful sensations after "protracted loading" (for example, pain in the knees after a long walk); articular chinks (crackles associated with movement). Moreover, the joints affected by arthritis are often stiffened, especially in the morning and during periods of non-ambulation. The hips and knees are the joints most affected by post-menopausal arthrosis, but also the hands and fingers are often affected joints.
Arthritis is an inflammation affecting the soft tissues of one or more joints. The causes of arthritis can be different, such as infections or alterations of the immune system. The joints most affected are those at the level of: wrists, elbows, fingers and toes, hips, shoulders and knees. Arthritis can be:
acute arthritis, very common, it is generally caused by bacteria and causes swelling and stiffness of movement;
chronic arthritis is a degenerative form, which evolves progressively from acute arthritis.
Rheumatoid arthritis is a chronic inflammation and has autoimmune origin (it is due to an alteration of the immune system, which causes abnormal responses directed against the body). Unlike arthrosis, it involves only the synovial membrane and not the actual cartilage.The immune system behaves abnormally and attacks the synovial membrane of the joints, which reacts by increasing volume until it invades the cartilage, erodes it and consume it. Generally the following symptoms occur: • swelling (the joint is very hot, reddened and painful); • thickening of the synovial membrane and its folding towards the inside; • cartilage erosion of the underlying bone; • progressive deformation of the joints involved.
Other diseases that can cause joint pain are:
Bursitis (inflammation of the shock absorbers around the joints);
Rheumatic diseases such as lupus, gout, psoriatic arthritis;
Some viruses, for example those that cause mumps, flu, mononucleosis.
---
Joint pains of rheumatic origin: the approaches 
To fight against joint pains of rheumatic originis, there are different approaches:
1. Food approach:
It is necessary to limit the consumption of meat, sausages, eggs and aged cheeses: these foods contain:
a significant amount of animal protein, which leads to a surplus of uric acid in the body which, precipitating in the form of crystals in the joints and muscles, causes joint pain
an abundant quantity of arachidonic acid, a precursor of prostaglandins, which triggers the inflammatory phenomenon.
The meat also creates a general acidification of the organism, as well as coffee, which favors the mobilization of calcium from the bones with a consequent greater possibility of osteoporosis.On the other hand, fruit and vegetables rich in vitamins and antioxidants are welcome. It is advisable to eat foods such as onions and vegetable foods rich in calcium such as sesame, almonds, legumes and cabbage.
2. Pharmaceutical approach:
In the treatment of rheumatic diseases it is important to intervene relieving inflammation in order to reduce pain and gradually recover joint function. Pharmacological treatment related to osteoarticular problems is represented by different drugs (anti-inflammatory, analgesic and cortisone) that reduce pain and inflammation. The most famous anti-inflammatory inhibitor of COX 1 and 2 is certainly salicylic acid acetyl (in aspirin) but we can also mention others like Naproxen sodium (in Momendol or Synflex). Then there are the inhibitors that act selectively only on COX2, much more active on pain and inflammation and among these we can mention the Celecoxib. As is undoubtedly known the great activity of these drugs is equally important to report the numerous side effects that limit their use including gastritis.
3. Phytotherapeutic approach:
For specific articular problems is indicated Doloreum, a capsule supplement with the Univestin fitocomplex (covered by international patent), with extracts of Scutellaria baicalensis and Acacia catechu, titrated in two active ingredients baicalin and catechins. The most recent scientific literature has in fact highlighted an important anti-inflammatory activity, attributable to the baicalin of Scutellaria baicalensis and to the catechins extracted from Acacia Catechu wood with an action mechanism similar to NSAIDs (eg Ibuprofen, Aspirin, Momendol etc …).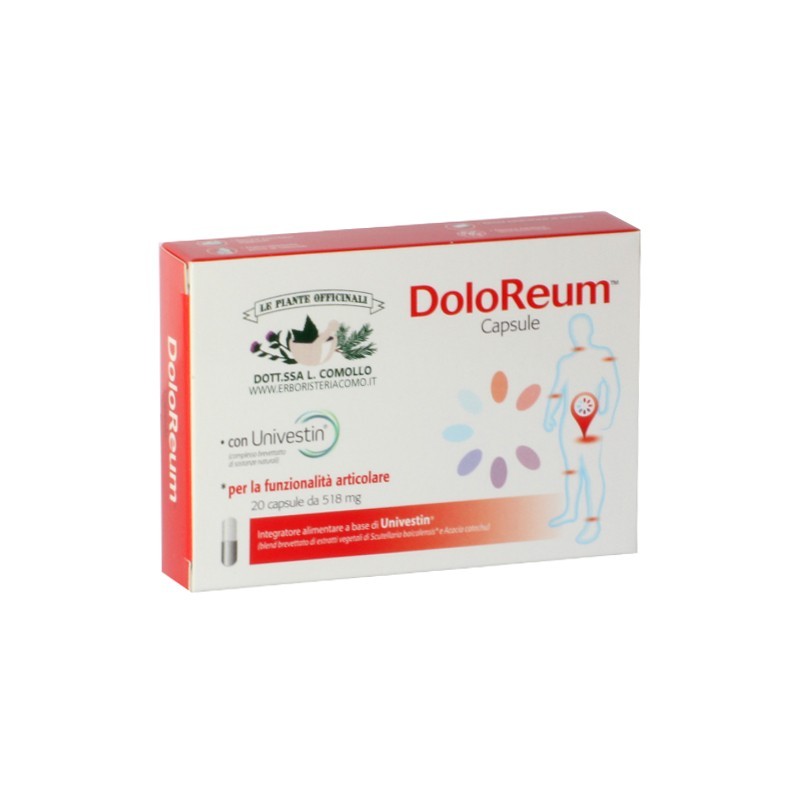 Univestin, has efficacy tested in vivo compared with naproxen sodium (active ingredient of Momendol and Synflex) and with Celecoxib (active ingredient of Celebrex 200 mg).
The clinical study on Univestin vs Celecoxib (Celebrex200 mg) was conducted on 60 subjects aged between 40 and 75, with rheumatoid arthritis or osteoarthritis of the knee and / or hip divided into four groups of 15 people : • Placebo, • Group taking Univestin in the 250mg dosage, • Group taking Univestin in the 500mg dose, • Group taking Celecoxib in the 200mg dosage. The efficacy of the treatment was evaluated every month for 3 months using as a parameter the WOMAC test (Western Ontario and McMaster Universities), the most used index to evaluate the symptoms related to osteoarthritis (pain, stiffness and functionality). Results: Univestin reduces pain in the 500 mg / day dose and is more effective than Celecoxib 200 mg at this dose; Univestin improves recovery of knee and / or hip functions, both at the 250 mg and 500 mg dosages both in the placebo group and in the Celebrex 200 mg drug.
The clinical study on Univestin Vs Naproxen Sodium 440 mg (trade name Momendol or Synflex), conducted at the University of Florida in 2011, had as its main objective to verify the effects in a week of the daily intake of 500mg of Univestin in subjects suffering from osteoarthritis in comparison with naproxen sodium 440mg / day. The study was conducted on 80 people divided into two groups: one took 500 mg of Univestin per day; the other took 440 mg of naproxen sodium per day. Results: Univestin was effective on pain in 7 days as the drug Naproxen sodium; muscle stiffness is significantly reduced after 3 days of taking Univestin®, further improving after 7 days, with values ​​comparable to the drug naproxen sodium.
When to take Doloreum?
To restore joint function in the acute phase we recommend taking 2 capsules of Doloreum at lunch and 2 tablets of Curcuma Gold at dinner for at least 10-20 days consecutively. In one last post we had already talked about Curcuma Gold, a useful supplement for inflammation associated with prolonged exercise, for the attenuation of muscle soreness from oxidative stress, in irritable bowel syndrome, prostate, diabetes and diabetic retinopathy, but also for the well-being of the joints.
The alternative of Specchiasol is Lenicomplex tablets, with patented LeniFit extract, based on officinal plants with anti-inflammatory and analgesic properties that work synergistically to promote physiological joint function and therefore useful for countering the most common osteo-articular and muscular disorders (such as pain and swelling). Lenicomplex tablets in particular contains: Devil's claw, Boswellia and Pycnogenol. It is generally recommended to take 2 tablets a day, preferably before main meals. It can be associated with LeniComplex gel, which contains Devil's claw, Boswellia, olmaria and capsicum and that is usually recommended to apply the product 2-3 times a day on the affected parts and massage until completely absorbed.
4. Approach with gemmotherapy
Main indications of Ampelopsis weitchii bud extract are the inflammatory syndromes with articular and periarticular localization very painful, rapidly evolving and deforming. Its prescription is optimal in inflammatory rheumatic syndromes such as rheumatoid arthritis, psoriatic arthritis, ankylosing spondylitis, scapulohumeral periarthritis, painful and deforming forms of the small joints, post-inflammatory adhesions.
Its action can be reinforced by blackcurrant bud extract (Ribes nigrum) , which helps to decrease joint stiffness and the algic component (coxarthrosis, in particular). In case of coxarthrosis it is usually recommended to associate virgin lives with ribes nigrum and betula pubescens buds; in case of deforming arthritis it is advisable to associate virgin vine with ribes nigrum and a vitis vinifera.
Also the prescription of juniper bud extract is precious in rheumatology: it stimulates the diuresis, accelerating the elimination of waste by the organism but its action is much deeper, coming to influence "the cellular metabolism and the profile of the single collagenous cells "(Weiss RF, Lehrbuch der Phytoterapie, Hippokrates Verlag, Stuttgart 1992) with the benefit of joint function and slowing down of degenerative processes. It can therefore be indicated in arthralgia.
Joint pains of traumatic origin or bruises: arnica montana gel
For traumas and bruises we recommend, at the topical level, our Arnica gel FORTE, which contains 20% of Mountain Arnica glycolic extract, Phyto Arnica, obtained from the flowers exclusively of the Arnica montana species and with a 1: 1 drug-extract ratio (and not dyeing mother with a 1:10 ratio!). This gel is free of parabens, PEG and SLS. The anti-inflammatory activity of Phyto Arnica has been compared with 1% Diclofenac (1% venous embolel) and tested against Mexican Arnica (Heterotheca Inuloides, very common on the market alone or in a mix with arnica montana) and has efficacy tested against trauma. and bruises. Results of studies: Arnica montana is 10 times more effective than Mexican arnica; Phytoarnica has an anti-inflammatory activity comparable to that of Diclofenac.
---
For any clarification or for more information Contact us.
Follow us on our Facebook and Instagram channels
ALL RIGHT ARE RESERVED, THIS TEXT IS NOT REPRODUCIBLE WITHOUT EXPRESS AUTHORIZATION OF ERBORISTERIA COMO.