Burdock Mother tincture is precious for its general purifying, diuretic and antibacterial action. Thanks to its actions it is very useful especially in the change of season but not only for our skin. Find out more!
---
The burdock, whose scientific name is Arctium Lappa, is a well-known biennial herbaceous plant common in uncultivated places and wet meadows, which can grow up to one meter in height and which blooms from July to September.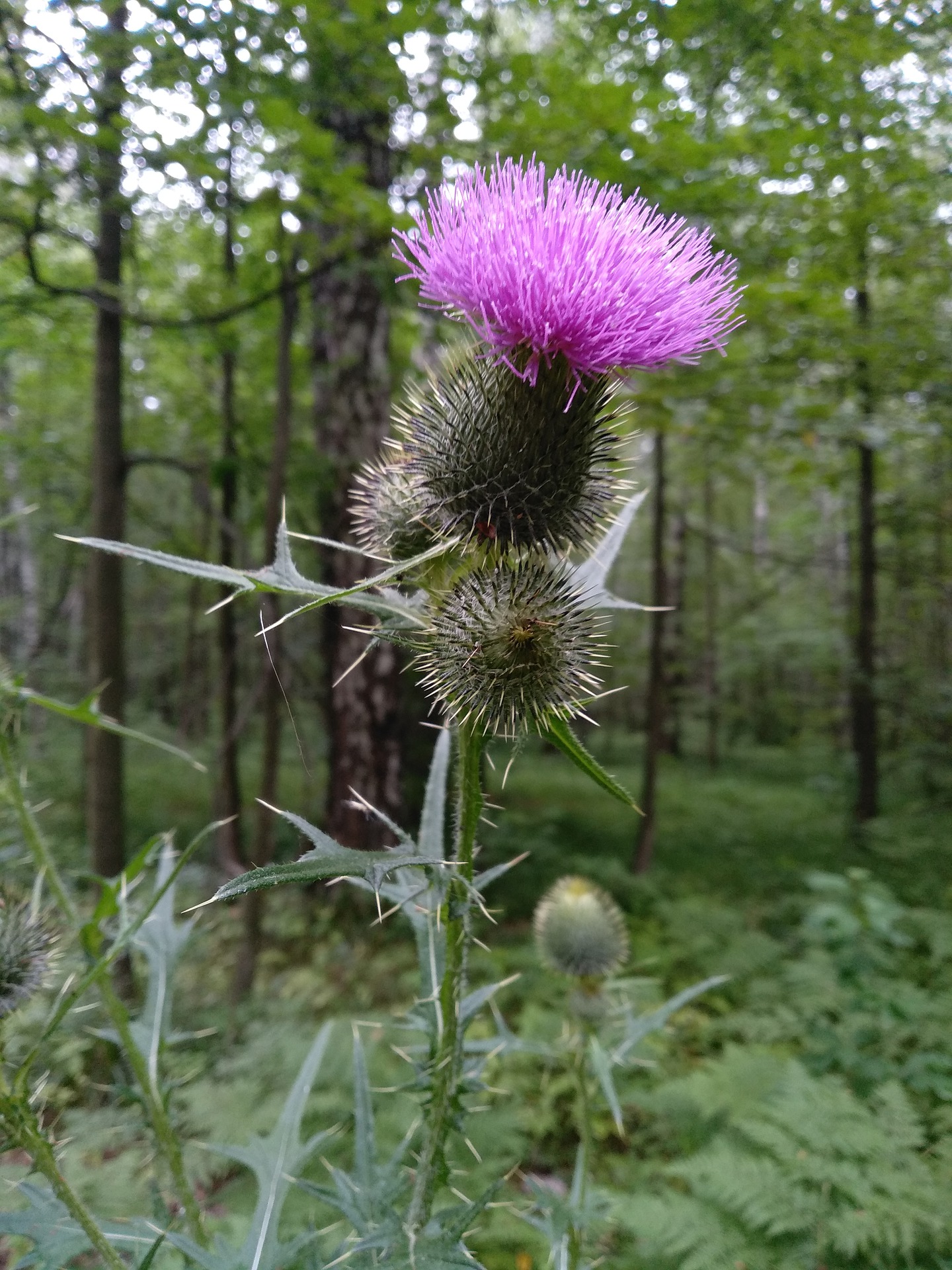 For his recognition, the description that Dr. Scotti gives us in the book of "Flora medica della Provincia di Como" dated 1872 is incredibly precise: "large, spindle-shaped root, black on the outside, the internal pulp white; herbaceous, hard stem, striated, branchy; lower leaves broad, cordate, petiolate, crenate, whole, cottony below, while the upper ones gradually smaller, oval; the flowers are purple, gathered in rounded, solitary flower heads, forming a terminal panicle as a whole: common envelope globose greenish, with numerous leaves, imbricated, lanceolate, acute, hooked; seeds with a simple and short plumet. The root contains inulin and a lot of starch: it has a sweetish taste ".
The part used by us herbalists is above all the fresh root (drying makes it almost inactive), which is harvested in the autumn of the first year or in the following spring, before flowering. The main active ingredients known are: inulin (45-60%), essential oils, mucilage, bitters (arctigenin, arctiopicrina), polyphenols (caffeic acid, chlorogenic acid), tannins, glucosides, B-complex vitamins, mineral salts, sitosterol, antibiotic principle with penicillin-like activity active on Gram +.
Burdock Mother tincture: what it is and how to take it
The mother tincture of burdock is a hydroalcoholic extract D/E 1/10 of fresh root, alcohol 55% vol. It is recommended to take 30-50 drops orally in half a glass of water 2-3 times a day. In practice, 150 drops contain burdock hydroalcoholic extract 4.2 g; for external use it can be used for compresses on the skin: just prepare a 10% aqueous solution, perhaps also associating it with St. John's wort oil or jojoba oil.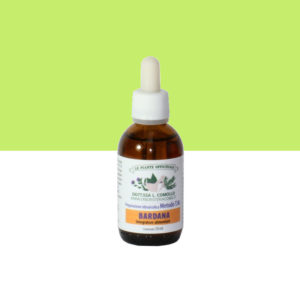 ---
Burdock Mother tincture: properties
Burdock mother tincture is useful for the purifying functions of the body and for the well-being of the skin.
Burdock, and in particular its fresh root, has always been known as a powerful purifying agent and owes its properties to the fact that it is:
a good diuretic, eliminator of uric acid;
a valid stimulator of biliary and hepatic function</strong>;
these activities are accompanied by an interesting hypoglycemic, hypocholesterolemic and antibiotic action.
Burdock, thanks to its diuretic, diaphoretic, cholagogue properties, is counted among the purifying plants suitable for drainage, which therefore favor the elimination of toxins from the body through the natural emunctors (liver, kidneys, intestine, skin): good drainage consists in fact in a mild strengthening of hepatic activity, biliary secretion, diuresis, intestinal transit and in an increased activity of the secretion of the sweat glands and in the regulation of sebaceous secretion.
It is precisely thanks to the general purifying activity of burdock preparations and to the specific complementary actions slightly diuretic and stimulating biliary and hepatic activity, that burdock is elective on the skin tissue, whose faulty functioning hinders the elimination of the toxins produced. from the body. This is because burdock contains substances in the root with antibacterial activity towards staphylococcus and activating, through the stimulation of the sweat glands, the elimination of residues of skin degeneration that lead to the formation of blackheads and comedones. It is therefore particularly valid in the treatment of skin forms such as acne, eczema, seborrhea, etc.
---
Burdock Mother tincture: recommended uses
Oral treatments with preparations obtained from fresh plants, such as mother tincture, are particularly effective in the treatment of acne, furunculosis, impetigo: the internal treatment can be combined with an external treatment using washes, packs, creams and lotions. Also useful for general purification, its hypoglycemic action and elimination of uric acid.
The cosmetic use is intended for oily, asphyxiated skin, with blackheads and prone to acne or seborrhea. The cosmetic properties of burdock? skin purifying, anti-redness, lightening, moisturizing. Burdock performs a cell regeneration action and a softening and soothing activity. Specifically for the treatment of sensitive and couperose skin, it is particularly recommended also for impure and acneic scalps. It stimulates the purification and rebalancing of the skin tissue. On the scalp, in packs or shampoos, burdock has a purifying and astringent action.
For internal use, the  burdock mother tincture can also be associated with other mother tinctures to enhance its effect, and at this point we cannot fail to mention the very famous and ancient recipe of Tétau (of the French school) entitled "Dermo-purifying Mother tinctures": mix the burdock mother tincture, viola tricolor and dandelion in equal parts up to 125 ml and then take 50 drops diluted in a little water and sip slowly, fasting in the morning, and before 2 meals. There is also a more modern variant of this famous formula (Bergeret and Tétau, La Nuova Fitoterapia, 1983): just replace the mother tincture of dandelion with the mother tincture of fumitory, but at this point the advice given is as follows: "50 drops in the morning, noon and evening on an empty stomach, dilute the product in a little water and drink in small sips held each time for about 1 minute under the tongue to favor an initial absorption by the oral mucosa. In children and adolescents, the single dose will be 10-45 drops ". The reason is this: burdock is the typical remedy for even inflamed skin dysfunctions, viola tricolor is an ancient remedy for dermatosis and the fumitory acts as a dermal drainage agent; dandelion instead acts on the purifying-hepatic activity.
You can also take it together with our Italic depurative, for a healthier and brighter skin, especially in the changing seasons, or with our natural draining agents. On a cosmetic level, look at our organic products: cleansing soaps, micellar waters, pimple cream, oily skin cream, our serums and boosters, organic face and body oils, our professional products for the treatment of the scalp and hair.
---
Arctium lappa Mother tincture: contraindications
At therapeutic doses, writes Bruno Brigo in "Natural Medicine from A to Z", no toxic effects are described. Avoid during pregnancy and lactation. Burdock exhibits stimulating activity at the uterine level.
---
For any clarification or for more information Contact us.
Follow us on our Facebook and Instagram channels
ALL RIGHT ARE RESERVED, THIS TEXT IS NOT REPRODUCIBLE WITHOUT EXPRESS AUTHORIZATION OF ERBORISTERIA COMO.