Description
Pure snail slime is suitable for all skin types, 100% pure Snail Secretion Filtrate and 100% Made in Italy. This 100% natural product from Lumea is produced a few kilometers from erboristeriacomo.it, by a professional agronomist of the trade, who has chosen to breed the genus Helix aspersa Muller in an ethical way and with great attention to their needs on her farm and to formulate her cosmetics with the ingredients she produces.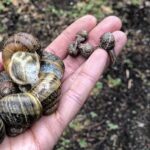 Lumea's farm visited for you.
Snail slime Total Pure: what is it for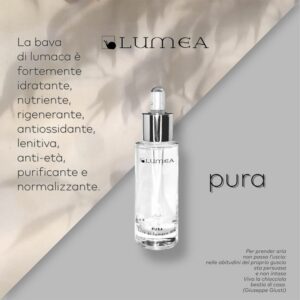 This special total pure serum is a true beauty elixir, whose only ingredient is also known in scientific literature for its properties:
moisturizing and nourishing
regenerating, anti-aging, antioxidants,
soothing, purifying, normalizing.
Pura Lumea snail slime, promises to deeply regenerate damaged tissues and regulate the amount of sebum, hydrating the dehydrated areas affected by redness / sores. Being an important sebum-regulator, it is suitable for all skin types: dry, oily, combination. It helps to even out the complexion by eliminating discolorations such as spots, stretch marks and scars. It is ideal for skin prone to impurities and acne.
Snail slime Total Pure: how to use it
Apply Lumea cosmetics pure slime in the morning and evening and massage until completely absorbed. Do not place it in direct sunlight. In case of acne problems, you can choose to use it in combination with the Lumea moisturizer with snail slime. Otherwise, for mature skin, combine it with best face cream for wrinkles, for mature skin, with Snail Slime.
Ingredients: Snail Secretion Filtrate.
Content: 30 ml
Producer: Lumea – Soc. Agricola Val Tassobbio Canossa Srl
Do you need help? Contact us