Description
Light Golden blonde hair coloring powder by Phitofilos is a professional mix of vegetal dyes powders vegan ok: chamomile, neutral henna, turmeric, red henna.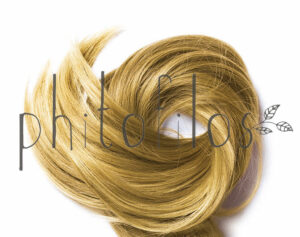 Light Golden blonde hair powder Phitofilos has a good coverage (avarage-high) on white hair (45-90 minutes); excellent results after application on blond hair for a delicate and luminous golden blon. Mild results on light brown hair with great light effects (45-120 minutes).
INCI: Chamomilla Recutita Flower Powder, Cassia Obovata Leaf Powder, Curcuma Longa Root Powder, Lawsonia Inermis Leaf Powder
How to use: Mix the necessary amount of powder of Light Golden blonde henna with hot water, until a not too thick batter is obtained. Apply to slightly cleansed and slightly damp hair. Wrap with food foil or tinfoil and leave between 45 and 120 minutes, depending on the desired result and the starting stock. After the scheduled time, rinse and proceed with normal drying.
Brand: Phitofilos.
Read also our post about how to use henna and hair coloring powder
Do you need help? Contact us