Description
The best cream for irritated skin. It is medical device that helps restore barrier function, relieving symptoms due to sun exposure. Cicaialo Sole cream gel pack of 100 ml is useful against erythema and sunburn. Contains Oat Extract, Bran Oil, Vitamin E, Glycerophosphoinositol Choline Salt (GPI). Now we will explain to you why it is the best cream for sunburn, rash, eczema, natural.
Cream for irritated skin & also the Best sunburn cream: why
Cicaialo Sole cream gel is a medical device that fights the symptoms of erythema and sunburn. When compared with other products on the market, it is the only one that performs three actions thanks to its composition where glycerophosphoinositol has an action similar to cortisone but is natural; Oat extract, Rice Bran oil and VITAMIN E restore the skin lipid barrier thanks to the high content of omega 3 and omega 6 (Rice Bran Oil). Finally, Hyaluronic Acid (Vegetal), with a high molecular weight, hydrates, avoiding the loss of trans epidermal water.
Cream for irritated skin: the functional components in detail
Rice oil, oats, vitamin E
Rice bran oil is very effective against sunburn. Contains phytosterols that have a soothing action, oleoleic, linoleic and palmitic acids, gamma orinazole, vitamin E, many mineral salts that give it extraordinary antioxidant, soothing and decongestant properties.
Oats are rich in important vitamins, minerals and antioxidants that are beneficial for the skin. Beta-glucan gives oats moisturizing, film-forming and antioxidant properties, inhibiting xanthine oxidase. It is indicated in the case of: skin rashes, erythema, burns, itching, skin eczema. A scientific study has shown the ability to decrease pro-inflammatory cytokines in vitro and to induce clinical improvement in terms of scaling, roughness and intensity of itchy skin.
Vitamin E is a powerful antioxidant that repairs skin damage induced by free radicals. UV rays, in fact, are among the main causes of an overproduction of free radicals that damage the skin at a cellular level.
Hyaluronic acid and GPI
Among the other active ingredients, there is also the patented VegetaliALO, a hyaluronic acid of vegetable origin with a strong moisturizing action; it forms a protective film on the skin, preventing trans epidermal water loss (TEWL) and keeping the skin hydrated. Last but not least, the Glycerol-phospho-inositol choline salt (GPI) is an innovative active ingredient of vegetable origin, obtained from the lecithin of sunflower seeds.
Cream for irritated skin & best sunburn cream: the role of glycero-phospho-inositol choline salt (GPI) in sunburn
Excessive exposure to UVB radiation causes acute skin inflammations, which manifest themselves with erythema and edema. An essential role in the genesis of these alterations is due to prostaglandins and in particular to PGE2. This active ingredient inhibits the release of arachidonic acid, which precedes the synthesis of the main inflammatory mediators, such as prostaglandins, thromboxanes and leukotrienes.
Studies on the GPI:
a) An in vitro study conducted on human keratinocytes has shown that GPI choline salt decreases the levels of PGE2 secreted by keratinocytes following UVB irradiation in a dose-dependent manner.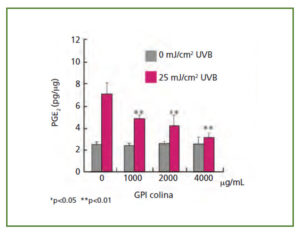 b) An in vitro test demonstrated the reduction of IL-6 release. IL-6 is a cytokine secreted by T lymphocytes and macrophages to stimulate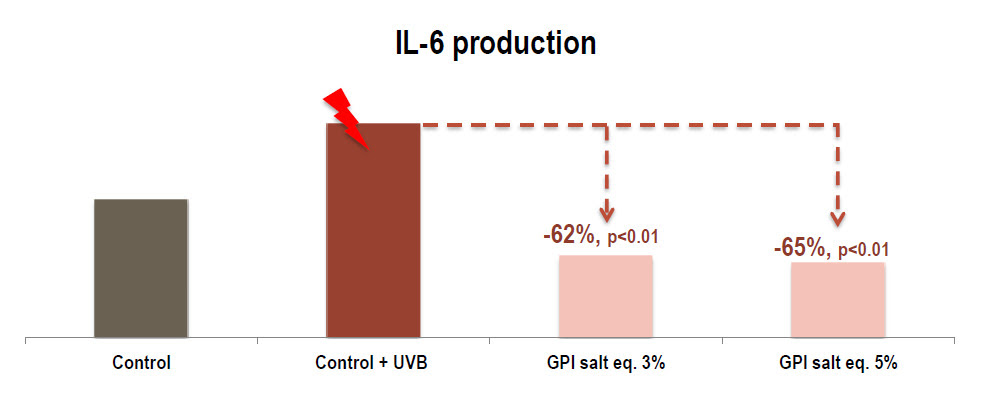 the immune response, for example during an infection, following a burn or other tissue damage that can cause inflammation. GPI regulates the release of IL-6, reducing the intensification of these inflammatory phenomena.
c) GPI significantly inhibits NF-kB translocation: An in vitro study has shown that GPI inhibits NF-kB transfer to the nucleus, reducing the transcription of factors that cause inflammation and senescence.

d) Protection from the effects of UVB radiation – IN VIVO TEST. The effectiveness of the GPI on skin damage caused by exposure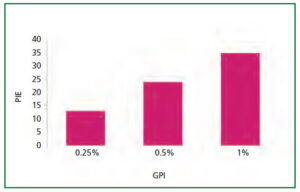 to solar radiation was evaluated on an erythema induced by UVB radiation (by ultraviolet lamp). This was monitored for the next 48 hours with a reflectance spectrometer and the percentage of erythema inhibition was calculated. As can be seen from the table of the published study, the GPI protects against damage caused by radiation and the inhibition of erythema is directly related to the concentration of GPI.
e) Comparison with a cortisone formulation – IN VIVo TEST: The effectiveness of the GPI on reducing erythema was compared with that of a soothing cream and a cream containing 0.1% betamethasone valerate. The study showed that the GPI-based cream has an erythema inhibition capacity (57.3%) significantly higher than the commercial soothing cream (37.7%) and comparable to that found for the cortisone formulation (61.9%).

Quantity: 100 ml
Brand: Erboristeria Como