Description
Phitofilos hazelnut blend is obtained from a blend of Phitofilos professionals of Indigofera, Lawsonia, Walnut and rhubarb powders, and is vegan ok. Nuance: light-medium / cold brown.
Phitofilos Hazelnut: what color does it make you get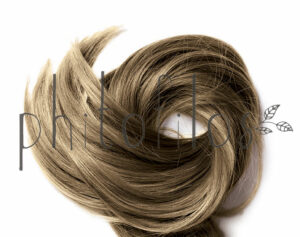 Phitofilos hazelnut blend is ideal for obtaining:
cold light brown nuances on ash and light brown backgrounds.
cool shades of dark blond on light blond hair.
shine to the hair on dark brown backgrounds.
Given the low presence of lawsonia, this 100% vegetable blend of reflecting powders does not usually bring warm or coppery reflections even at long exposure times.
Phitofilos Hazelnut: some recommended combinations
Here are the shades you can get with Phitofilos Hazelnut:
– 60% hazelnut and 40% chamomile blend: light ash blonde;
– 60% hazelnut, 30% golden light blond, 10% walnut: light ash blond colder than the previous one;
– 80% hazelnut and 20% cold blond: light ash blond, very cold, dull. Be careful not to do it on bleached hair.
Phitofilos Hazelnut: how to apply it
Mix the necessary amount of powder with hot water, until you get a not too thick batter: a semolina with a consistency that does not run. Apply to lightly cleansed and just moistened hair, band with food film or aluminum foil and leave on for a variable time between 45 and 90 minutes, depending on the desired result and the starting base. After the allotted time, rinse and proceed with normal drying. N.B. For 100 g of powder the recommended amount of water is about 290/300 ml *. We recommend using the pastel gel (25 ml).
* The quantity of water must always be evaluated from time to time and changes according to the external temperature, the batch of the product, the time between preparation and application and any additions in batter (eg yogurt, gel, lemon, vinegar, etc.).
Ingredients: Indigofera powders, Lawsonia, Walnut husk, Rhubarb.
Brand: Phitofilos
Read also our post about how to use henna and coloring hair powder
Do you need help? Contact us