Description
Phitofilos eggplant henna is a mahogany hair coloring. Eggplant hair color powder by Phitofilos, is obtained from the mixing of Phitofilos professionals with the wood powders of camping, madder, indigofera and lawsonia and is 100% vegan ok.
Phitofilos Eggplant: what color can you get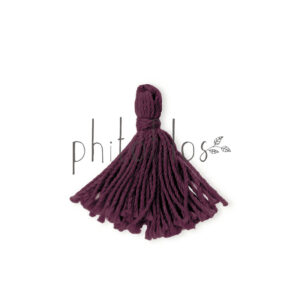 Our Eggplant hair color powder is an ideal mixture to give cold purple shades. What colors to get with eggplant henna:
alone this blend of dyeing herbs does not have a high dyeing power on whites, but lives perfectly as a second step, to correct Red Cherry, Red Henna n.2 or n.3, or brown blends in general. For example, the "Mauve effect" is obtained by mixing cherry red and eggplant powder.
on brown backgrounds with few whites it is excellent for obtaining aubergine nuances (60-90 minutes)
on light brown or dark blond backgrounds it expresses its maximum potential towards intense mahogany (45-120 minutes).
The batter of Eggplant requires the addition of baking soda in order to get purplish reflections.
Phitofilos Eggplant: how to apply it
Mix the required amount of powder with hot water, until the batter is not too thick. Add 2 tablespoons of baking soda for every 100g of powder, until the result is a semolina with a consistency that does not run off. Apply to lightly cleansed and slightly damp hair. Band with food film or aluminum foil and leave on for between 45 and 120 minutes, depending on the desired result and the starting base. After the allotted time, rinse and proceed with normal drying. It is advisable to let the batter rest at room temperature about 1 hour before application, turning the mixture from time to time to obtain the best result.
Erboristeriacomo.it is Phitofilos official dealer: for any doubt about the choice of the product contact us, and if necessary send us a photo of your hair with the current color, we will reply as soon as possible.
INCI: haematoxylon campechianum bark powder, rubia cordifolia root powder, indigofera tinctoria leaf powder, lawsonia inermis leaf powder. Vegan certification ok.
Content: 100 g
Brand: Phitofilos.
Read also our post about how to use hair coloring powder
Do you need help? Contact us