Description
Dark Blonde hair color, Intense and Bright Color; Maximum Protection and Duration. Dark Blonde hair color is based on an innovative formulation that allows to obtain a coverage of white hair giving at the same time protection, brightness and brilliance. Its formula without ammonia, resorcin and parafenilendiamine guarantees maximum respect even for the most delicate skin.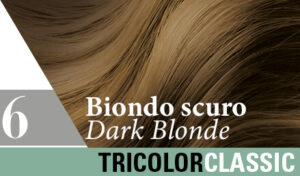 Innovation: 3 Functional Actives
• Aq-Save (moisturizing and fortifying action): innovative active ingredient obtained from the biological fruit of the chestnut (Castanea Sativa L.) cultivated in Italy. It nourishes and repairs hair, also effectively acting on those that are particularly stressed and / or damaged. The result is a brighter, healthy and hydrated hair. (Active EcoBio certificate from ICEA);
• Ximenia (revitalizing and restructuring action): 100% natural oil of African origin known to be particularly rich in unsaturated fatty acids, with a nourishing and strongly moisturizing activity. Helps to rebuild and preserve the integrity of the capillary structure;
• Rep'Hair® (protective and repairing action): functional complex made up of vegetable ceramides useful for counteracting excessive dryness, restoring and maintaining the hydro-lipid balance of the scalp. Protects and repairs the hair often put to the test by changing climatic conditions, sun exposure, chemical treatments (permanent, meches, plate, hair dryer, dyes), giving new shine and vigor. (Active approved ECOCERT).
The package (for 2 treatments) of Dark Blonde hair color contains: 1 tube of 80 ml coloring cream, 2 detectors shakers of 40 ml, 2 sachets HC + Probiotics Shampoo dyed and bleached 8 ml, 2 sachets HC + Probiotics Professional Hair Mask 10 ml, 2 pairs of protective gloves, 1 package insert.
Brand: Specchiasol
Do you need help? Contact us