Description
Stone Breaker Herbal Tea, from Erboristeria Como! This diuretic and antioxidant herbal tea can also be used as an adjuvant in the treatment of urolithiasis: this is one of the natural best drink for kidney stones. Discover this powerful herb in herbal tea, and if you want you can also combine it with our Mother Tincture Stone Breaker.
What is urolithiasis?
Urolithiasis (or "kidney stones") is a common and frequent human disease. It is characterized by a high rate of relapse, complex pathophysiological bases and multifactorial aetiology. Urine is usually rich in minerals which produce a high tendency to stone formation which, in healthy individuals, is naturally inhibited by reduced crystalline aggregation. The most common urolithiasis produces calcium oxalate (CaOx) crystals. The formation of stones proceeds through various and complex physicochemical steps that begin with the nucleation and growth of the crystals, followed by the aggregation, adhesion of the crystals on the renal tubular cells and internalization in the renal epithelial cells. All these processes occur in a complex environment containing both promoters and inhibitors; when the crystals nucleat, grow and are retained within the kidney, so they lead to lesions in the kidney epithelial cells creating "nests" of calculus.
Stonebreaker herbal tea: what is stonebreaker herb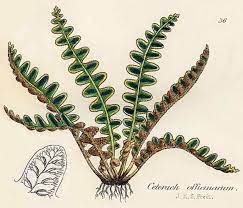 Ceterach officinarum Willd., a species of fern commonly known as "rusty back", is a perennial spontaneous herb belonging to the Aspleniaceae family with wide distribution in western and central Europe, including the Mediterranean basin.
It is characterized by a short rhizome that gives rise to green fronds with pinnate lamina with brown-orange trichomes only on the back, hence the name. It grows in the crevices of carbonate rocks and between stone and brick walls. The aerial parts of Ceterach officinarum are widely used in traditional medicine and its components include mineral salts, mucilages, tannins, flavonoids, caffeic acid and chlorogenic acid.
Herbal teas from its aerial parts are used as antihypertensive and anti-inflammatory hepatic.  The decoction is used as an expectorant. Ceterach officinarum tea is traditionally used in southern Italy for its diuretic properties and as a therapy against kidney stones, so much so that, in this region, it is also called "stone breaker".
Stonebreaker herbal tea: the best drink for kidney stones
The Stone Breaker is a help of nature against kidney stones. The results conducted in an in vitro study confirm the aqueous extract of Ceterach officinarum as a good source of antioxidants with a high antioxidant effect. Furthermore, an important impact of the aqueous extract of Spaccapietra on the crystallization kinetics of calcium oxalate in vitro and on the morphology of the crystals is also demonstrated, showing its critical role in the formation and / or elimination of kidney stones. The aqueous extract of Ceterach officinarum seems to be very effective in stimulating nucleation by increasing the number and reducing the size of calcium oxalate monohydrate crystals, which become progressively thinner, rounded and concave in a dose-dependent manner. These modified-shaped crystals are known to be less adherent to kidney tubular cells and more easily excreted through the urinary tract preventing the formation of kidney stones.
Stone Breaker herbal tea: how to prepare our herbal tea
The parts of Ceterach used for herbal teas are leaves and aerial parts. To prepare our herbal tea, just a spoon in a cup of hot water and leave to infuse for 5 minutes.
Quantity: 100 gr
Brand: Erboristeria Como
Can I help you? Contact us